There are several ways to record and track Analysis data in InnoVint. Analyses can be recorded on Fruit or Juice/Wine lots at any point in time; from recording vineyard maturity analysis on Fruit lots before harvest to quality control analysis for bottled wines, and everything in between.
This article provides a brief overview of the different ways you can record and track analysis data in InnoVint's web interface (Go here to find information on entering analyses in the mobile app). For a more in-depth look at each feature, follow the links in each section.
This article covers:
Choosing an Analysis Source
Any time that analyses are entered into InnoVint - either by an Analysis direct action, as a task in a work order, or by Analysis Import - you have the option to select a source. The source logo will be displayed in the Lot details Dashboard...

and also in the Analysis tab > All analyses in a list.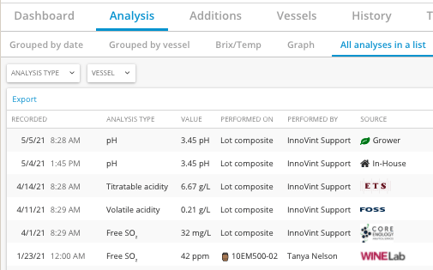 The analysis source will default to In-House. If your analysis source is not a current option in the list, select Not Specified as your source, and a logo will not be displayed.
Recording Analysis
Analysis can be recorded on one or more fruit or juice/wine lots at a time.
Using the Analysis direct action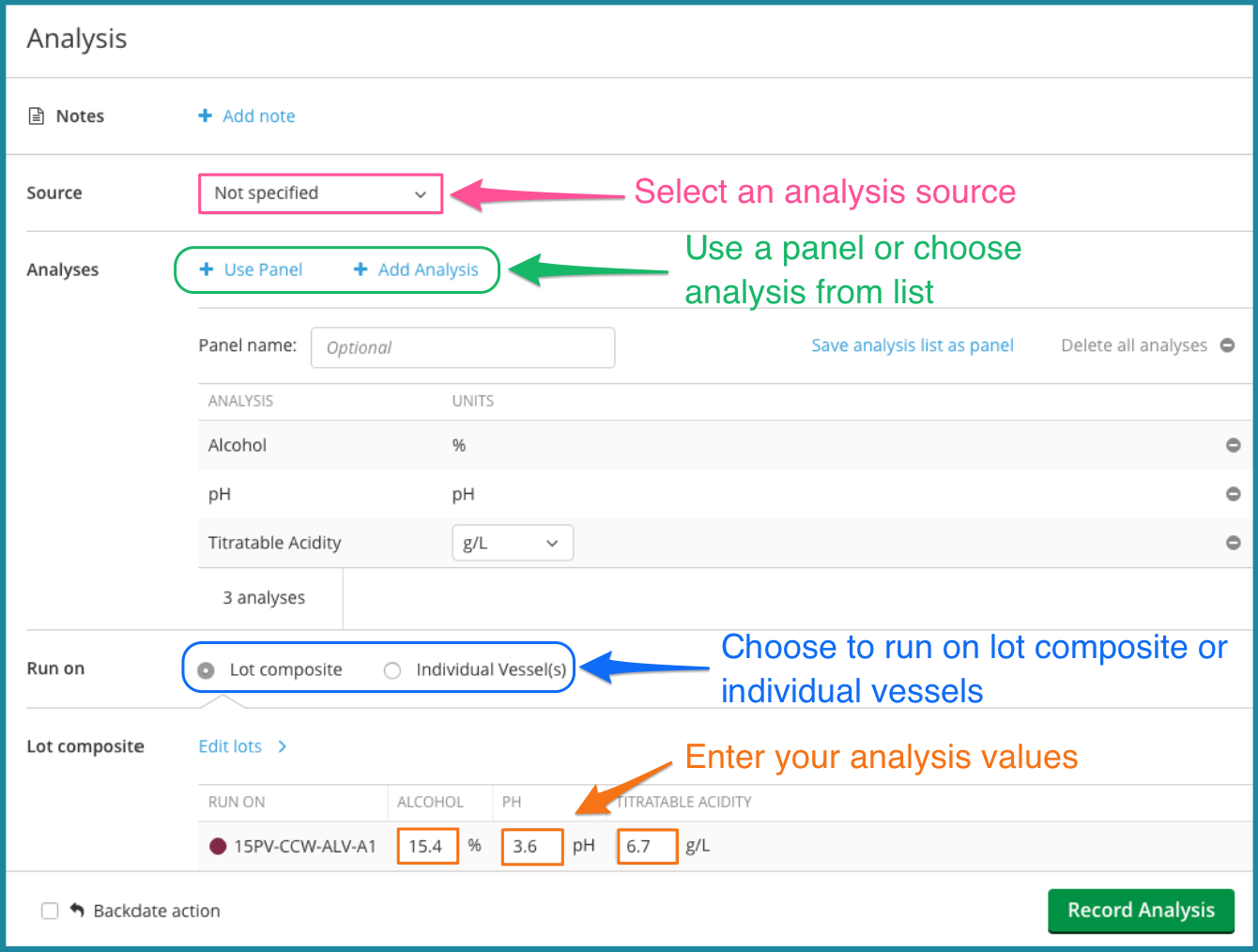 Scheduling Analysis in a Work Order
For detailed instructions on how to create a single work order, click here .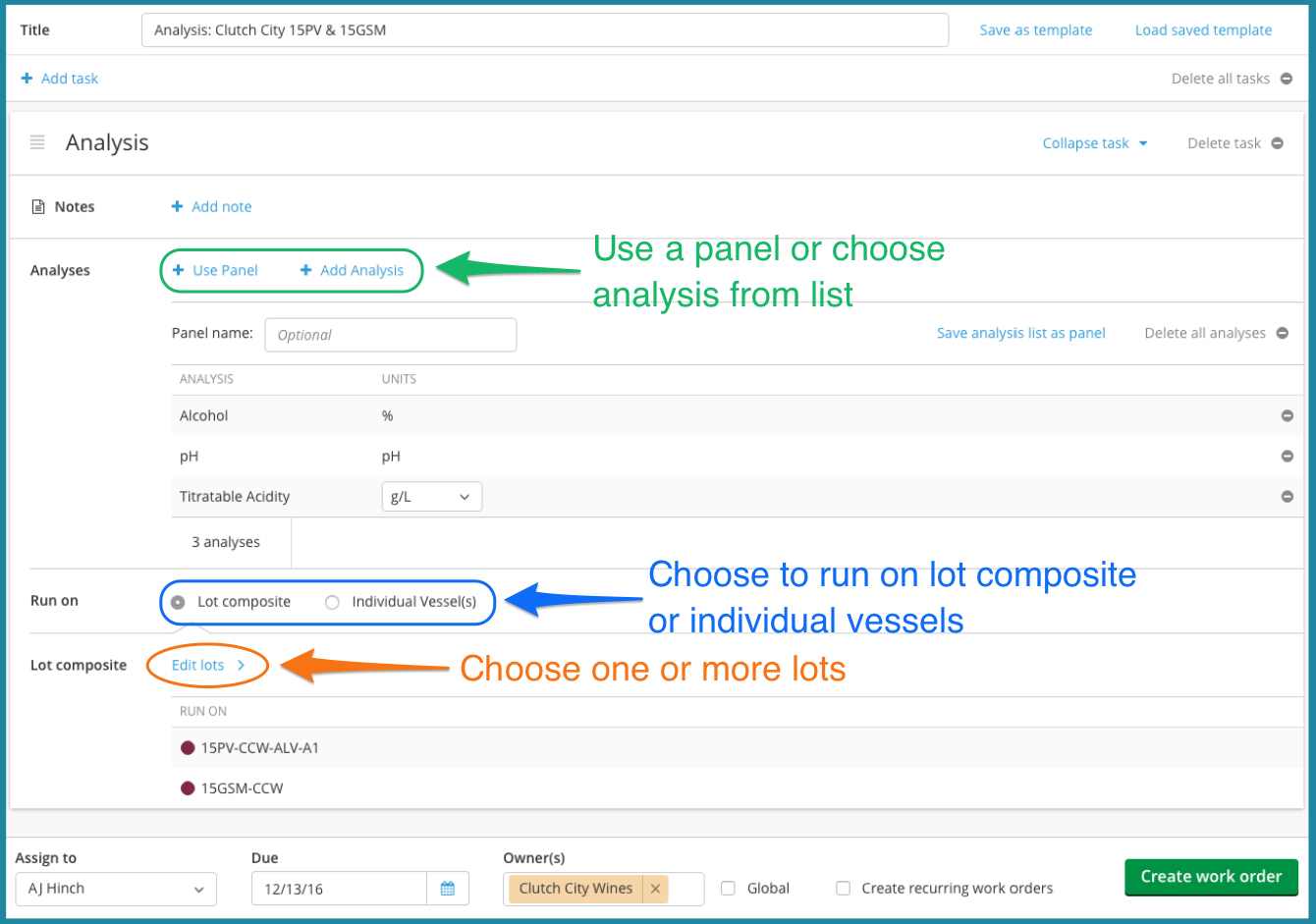 Analysis Panels
Analysis Panels are saved sets of analyses that can be used to record analyses in a direct action or scheduled in a work order.

You can create a new Analysis Panel from within an Analysis direct action, or when initially creating an Analysis Task within a work order (but not after work order creation).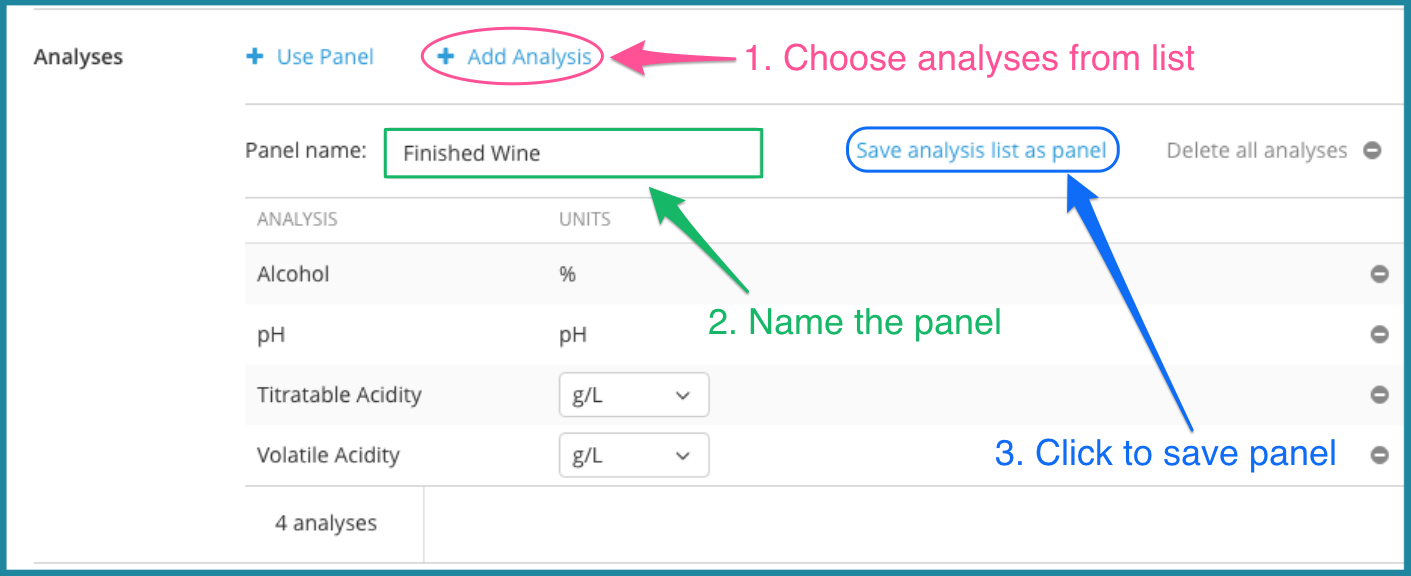 You can add or remove analyses from a panel from within a direct action or work order task, but you will not be able to save the changes. Analysis panels cannot be edited; you will need to delete the panel and re-create a new one to make any changes.


Analysis Import
The Analysis Import feature allows you to import analysis via a csv file for one or more lots or vessels.
The csv file must follow specific formatting rules. For more information on how to match a csv file, see our Support Center article here.
Find the analysis import templates here.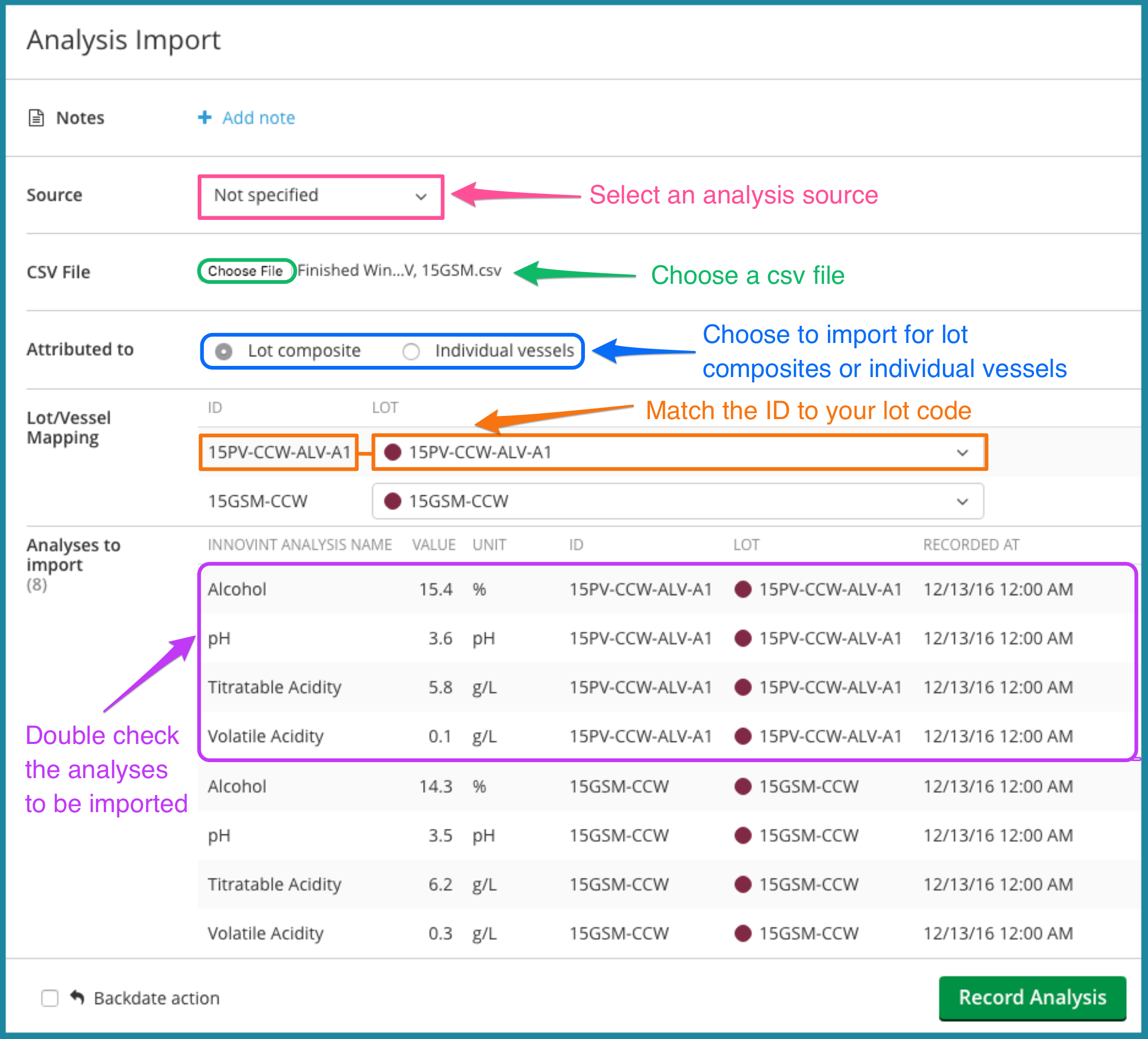 Note: The Analysis Import feature does not allow you to import data for lot composites and individual vessels in the same file.
ETS Integration
InnoVint and ETS have established a partnership that allows for analysis results to be posted directly into InnoVint's platform. The feature links sample codes between InnoVint and ETS, allowing for a seamless integration without any manual data entry.
See our ETS Integration Overview article here .

Note: You can also create a sample in a work order. Just choose "Pull sample for ETS" from the task menu.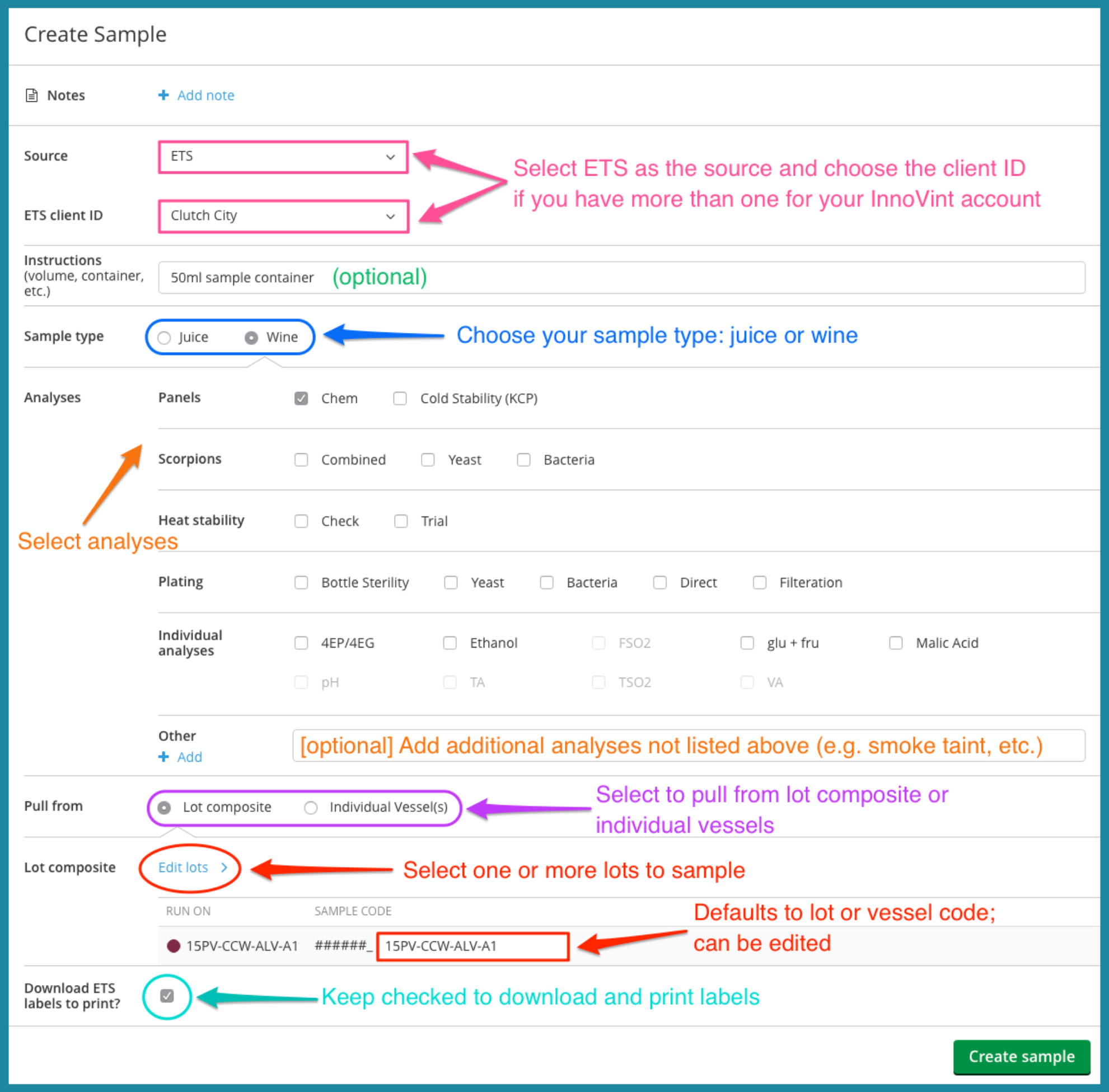 Tracking Analysis Data
View Analysis per lot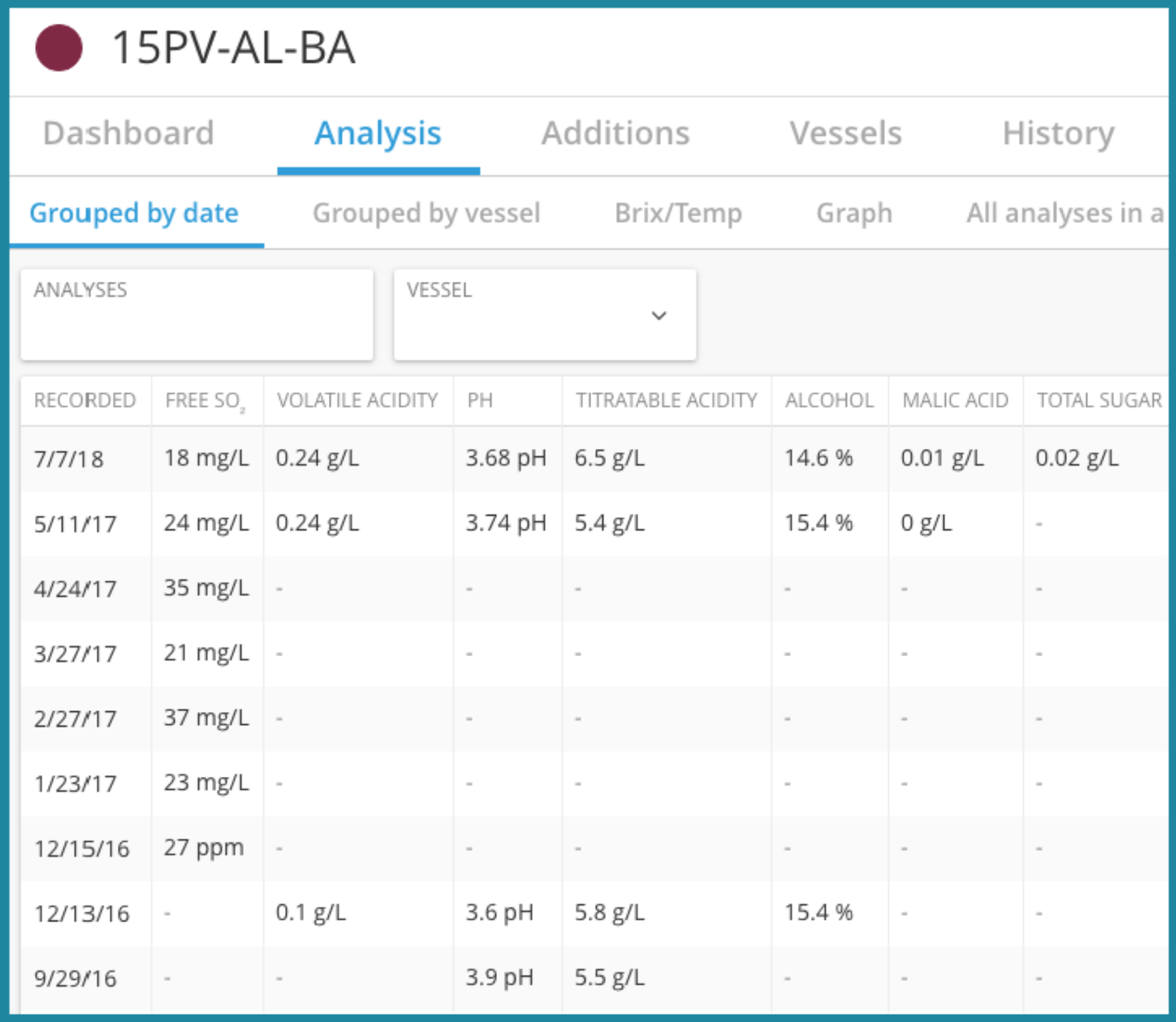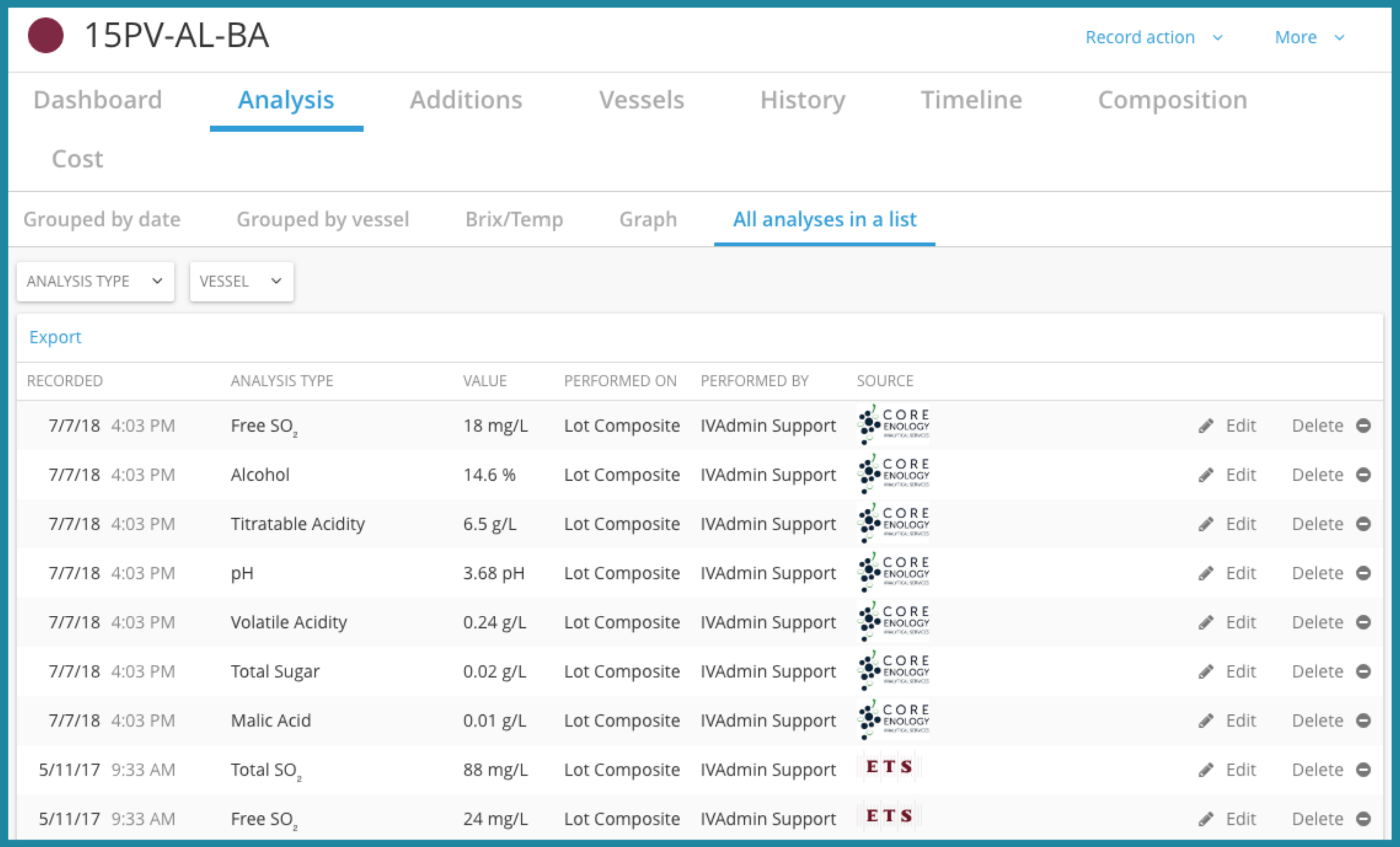 Winemaking Analysis Reports


Custom Winemaking Reports
Click here for more information on how to create Custom Winemaking Reports.