IMPORTANT: A sample must be created/pulled in InnoVint for ETS results to link in the lot or vessel. The sample code received by ETS must be generated in InnoVint.
This article covers:
From the Samples Explorer
Go to the Samples Explorer

in the left navigation bar and select

in the upper right corner
Select the ETS client ID, if more than one exists in the same InnoVint account
Add any sample instructions or container specifics
Select the sample type: wine or juice
Select the panel(s) and/or analytics requested. If you require any analytics that are not listed, simply write them in the "Other" field.
Choose to pull a lot composite or to pull from individual vessels, and select your lot(s)/vessel(s). Each selected lot/vessel will create a unique sample in InnoVint.
InnoVint generates a 6-digit link code for each sample, followed by your auto-filled lot code. You can edit the lot code for samples if desired.
InnoVint defaults to download the sample labels upon creating the samples. You can un-select the box if you'd prefer to print the labels at a later time.
Click on

to complete the action.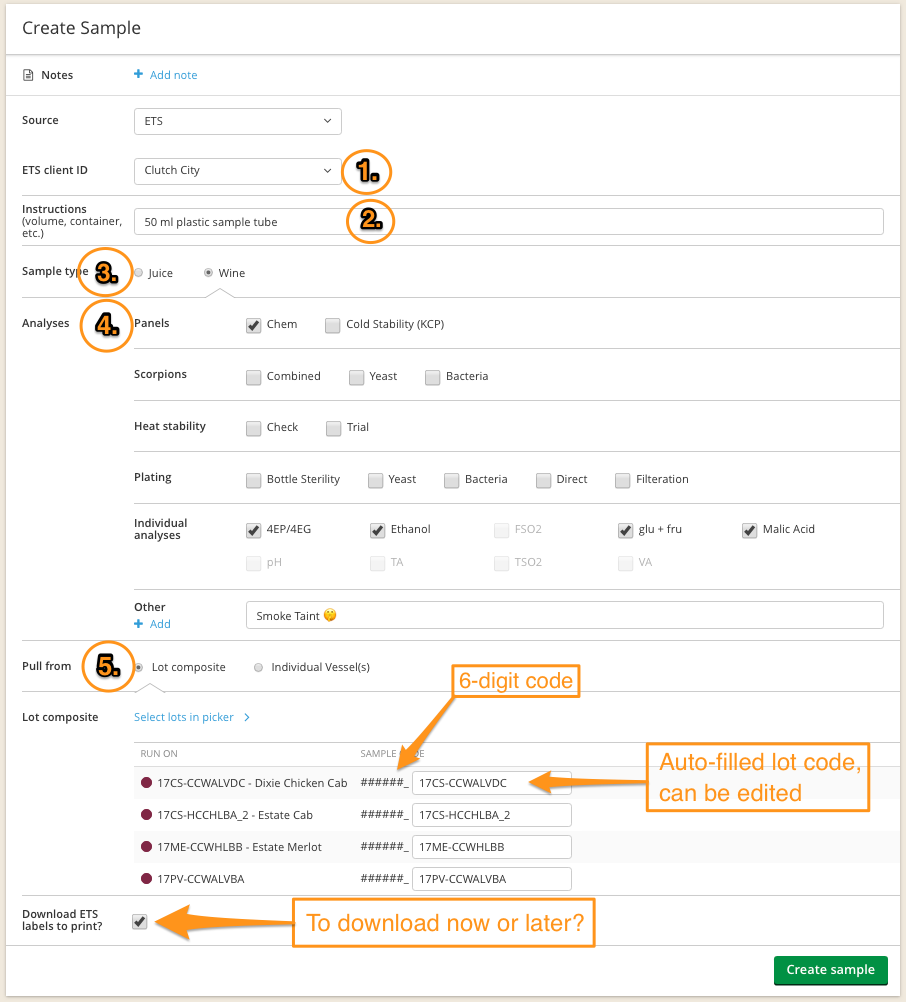 Work Order Request

When creating a work order, the task form will look almost identical to the Direct Action above. The option to download the sample label(s) and print is available once the work order has been created.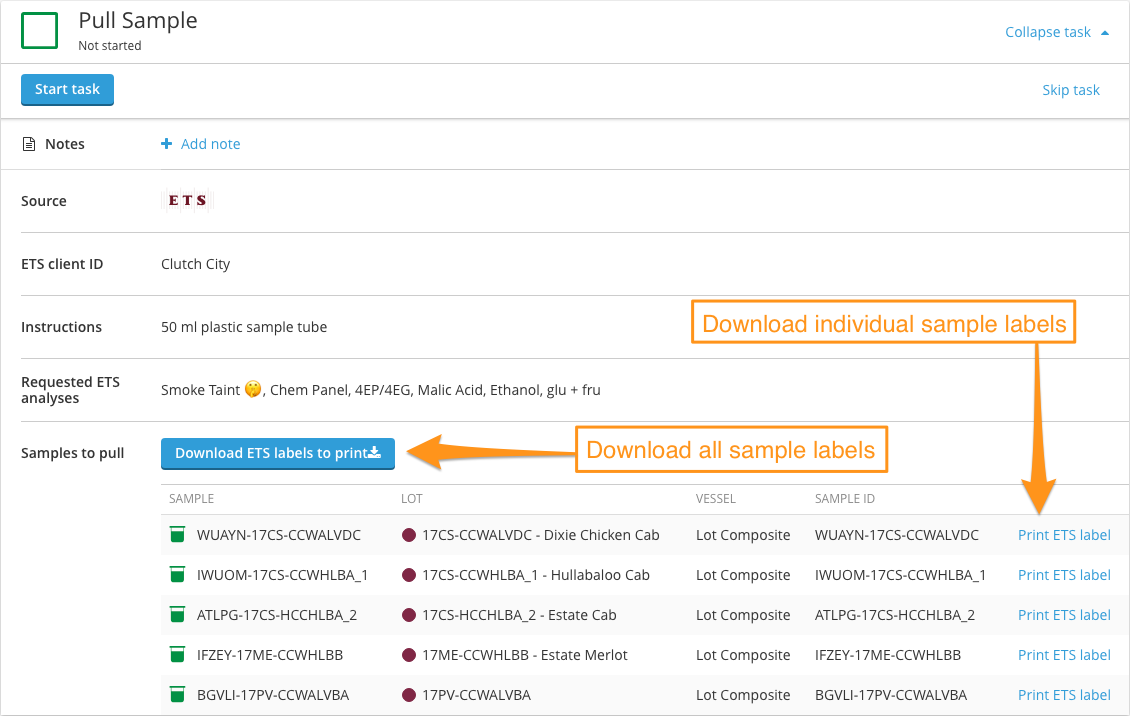 Download and Print Sample Labels
When downloading sample labels, a dialog box will open to select the type of label (sheet or ribbon), along with label size options. If you select sheet labels, it will expand so that you can select the placement of the labels on your sheet. All labels will download to PDF for you to print. This article outlines which labels we recommend and where to find them.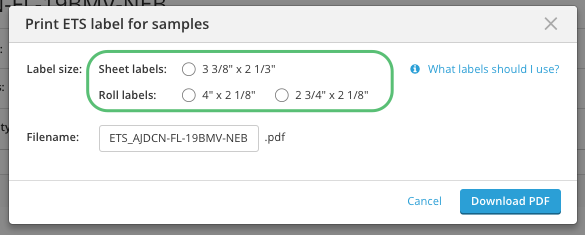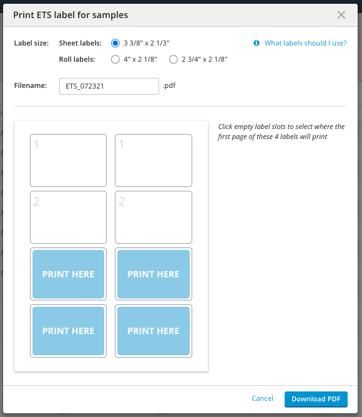 Viewing Samples
If samples are pulled via Direct Action, they will show in the Sample Explorer list with the green, full-container icons.
If they are assigned in a work order to be pulled, they will show up with empty container icons. Once the work order is submitted, the icon will turn green.
Note: Work Orders MUST BE SUBMITTED for the results to populate in the Lot or Vessel Analysis History. If a work order is submitted after sample results are posted by ETS, the results will populate the Lot or Vessel Analysis History with the next automatic import of ETS data.

FAQs
Q. What size/kind of labels do I need?
ETS analysis sheet sample labels should be printed on 2-1/3" x 3-3/8" size labels. We recommend Avery labels - product code #8395 (160 labels) or #5395 (400 labels).
If you use ribbon labels that accept pdf files (such as a Dymo or Zebra printer), we support 4" x 2-1/8" and 2-3/4" x 2-1/8" size labels.
Q. Can I import historical ETS analyses?
Historical ETS results cannot be automatically imported via the ETS Integration feature. This is because InnoVint generates a unique code for each sample that must be scanned by ETS to link the results to your account. However, you can import analyses via csv file using our Analysis Import feature. This will allow you to upload and backdate results with the ETS logo.
Q. Does the ETS integration import my berry sample results into my block details page?
Currently, the ETS integration only works with Fruit and Juice/wine lots. We hope to bring this functionality in the future. For now, you will have to either manually input these analysis results on the Block details page or record them on Fruit lots.
Q. Where do I go to print my sample labels?
To download and print your sample labels, go to the Sample Explorer and select the sample for which you'd like to print a label. Click on the link in the top right corner of the slide-over, Print ETS Label. If the sample was requested via work order, you can also download sample labels from within the work order task.
Q: My labels are not aligning correctly when I print from the PDF. How do I check my settings?
Make sure that the "Fit to Page" box is NOT selected. This will print true to the size of the page.