When creating a new juice or wine lot, users can designate the properties of that lot. Below is a breakdown of what each of these properties represent. Also see this article on how to create new juice/wine lots.
This article covers: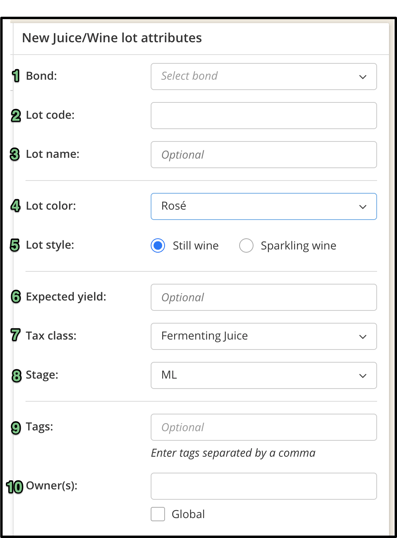 1: Bond
Wineries with multiple bonds need to select which bond this lot will be under. This is important to US wineries for the 5120.17 TTB Report. Wine can later be transferred in bond. Learn more about that here.
2: Lot Code
Enter a lot code. The Lot Code is the alphanumeric code (eg 14PNSC). InnoVint accepts numbers, letters, dashes (-), and underscore (_). The system will not accept character accents such as ü in Gewürztraminer or ã in Tinto Cão.
3: Lot Name
Lot Name is generally a written-out version of the Lot Code stating vintage, varietal, and vineyard. For example: 20CHSK - 2020 Sky Canyon Chardonnay.
4 & 5: Lot Color and Style (and lot dot color!)
Select the lot color and style when creating a new lot, or go to the Lot Details page > More menu (top right) > Change lot properties to edit an existing lot. User can choose between Red, White, Rosé, or Orange for color and Still or Sparkling for style.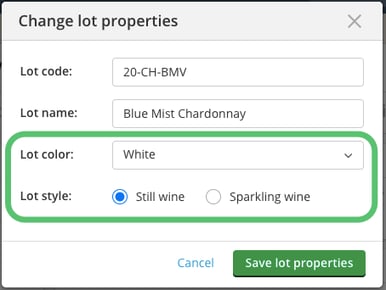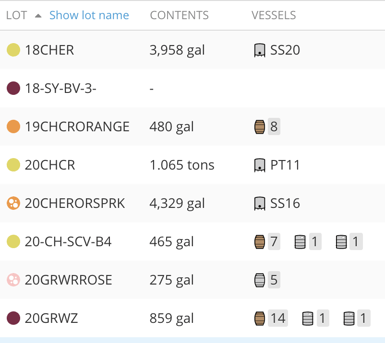 6: Expected Yield
This applies to lots being entered in weight. This is the amount of volume you expect to end up with after the lot is pressed. This is a great tool for determining which receiving vessels you will need depending on the yield produced. Here is how to adjust the expected yield of your lot.
7: Tax Class
Tax class selection has TTB implications and users will want to select a specific tax class based on where they want weight or volume to generate on the 5120.17 report. This is based on whether the lot is juice or declared wine, alcohol readings, addition of distillation materials, and whether the lot is still or sparkling. Here is more information on how to declare and edit tax class.
Note: As of 1/1/18, tax classes <14% and 14-21% have been replaced with <16% and 16-21%. See our article on changes due to the Tax Cuts and Jobs Act.
8: Stage
Lot stage is a way to track where a lot is in its lifecycle. This will change when additions are made. For example, when yeast is added, a lot stage will move from Processed or Cold Soak to Fermenting, and when SO2 is added, a lot stage will move from ML to Aging. This will also change when certain actions are applied, such as Process Fruit to Weight, or Barrel Down. This does not affect TTB reporting, but will determine which analyses are seen on the Lot Details Page. Learn how to change Lot Stage here.
9: Tags
Tags are a great way to group your lots and can be added or removed at any time. Assign one or more tags to any lot, either individually or to many at once. Tags can be used for many purposes, including:
To differentiate and group lot fermentation styles (e.g. No MLF, Reductive, Micro-Ox, barrel or stainless steel fermentation)
As warnings or alerts of high-risk lots (e.g. High VA, Residual Sugar, etc.)
Using the Tag filters found throughout the platform, you can easily search and find inventory items that you have tagged for quick grouping of lots, vessels, additives, or vineyards. Learn more about Tags here.
10: Owner(s)
Wineries with Custom Crush Permissions enabled can add owner tags to lots. Click here to see where else owner tags apply.
Lot Properties History Report
The Lot Property History Report shows a list of all edits and changes to lot properties and attributes by date. This is found under Activity Reports in the Report Explorer.

See this article to learn how to fill in your New Juice/Wine lot composition.