InnoVint records and stores a lot of data pertaining to the specifics of your lots, vessels, additives, and vineyard sources. But sometimes we don't capture everything. And that's where Tags become very useful, allowing for flexibility in how you want to track and organize your inventory.
Tags are a great way to group your inventory and can be added or removed at any time. Assign one or more tags to any lot, vessel, additive, or vineyard either individually or to many at once.
Using the Tag filters found throughout the platform, you can easily search and find inventory items that you have tagged for quick grouping of lots, vessels, additives, or vineyards.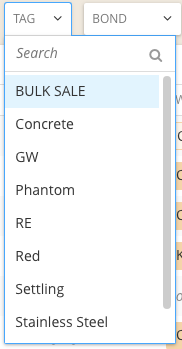 Tags can have many uses. For example, tags can be used:
To mark specific barrels for damage or microbial contamination
To delineate tanks or vessels by location or material (e.g. Cellar 1, concrete, stainless steel, blending, etc.)
To differentiate and group lot fermentation styles (e.g. No MLF, Reductive, Micro-Ox, barrel or stainless steel fermentation)
As warnings or alerts of high-risk lots (e.g. High VA, Residual Sugar, etc.)
To mark vineyards for machine-harvested or hand-picked fruit, disease risk
And many more! Our clients use Tags in creative and useful ways!
Because Tags can easily be added and removed for lots and vessels, they are also a great way to temporarily mark barrels during wine movements. For example, if you are blending multiple lots from barrel, and after the blend will return them back into the same barrels:
Tag all the barrels that will be racked and blended with a unique Tag
Create a work order with a Blend task or record a Blend action into a holding vessel


This will empty those vessels, putting them back into your empty vessel inventory

Create another work order with a Barrel Down task or record the direct action, and select the vessels by filtering for your unique tag. Voila!
After recording the Barrel Down, go to the Vessel Explorer > Manage Vessels > Edit tags on Vessels > Action: Remove tags