Harvest Workflow & Fermentation Tracking
Fruit Lot Explorer
Fruit lots can be created:
within a Receive Fruit action from the Vineyard Dashboard page
from the Fruit Lot Explorer using the "+ Add Fruit Lot" or "Receive Tonnage" buttons
within a work order as a task
Once you've created your Fruit Lots, you can find them in your Fruit Lot Explorer. To get there, go to your Vineyards tab > Vineyard Explorer.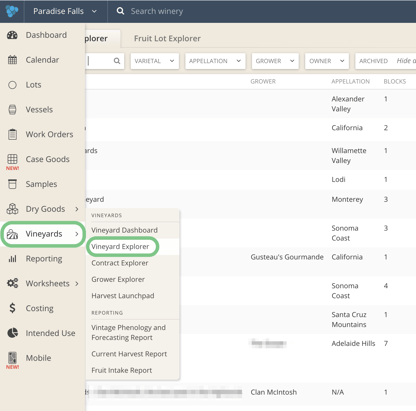 At the top under the title bar, you will see your Fruit Lot Explorer tab. This shows all fruit lots whether they currently have contents or not.

You can filter by Archived status, vintage, varietal, etc. This Explorer is also exportable. To find your weight tags associated with these fruit lots, visit the Fruit Intake Report in the Vineyards tab and learn more about that report here.