The Fruit Intake Report displays all the fruit received during harvest via Receive Fruit direct action or work order task.
This article covers:
Using the report
Find this report from either the Reporting or Vineyard pages:
Reporting > Activity Reports > Fruit Intake
Vineyards > Fruit Intake Report
Vineyards > Vineyard Dashboard > Fruit Intake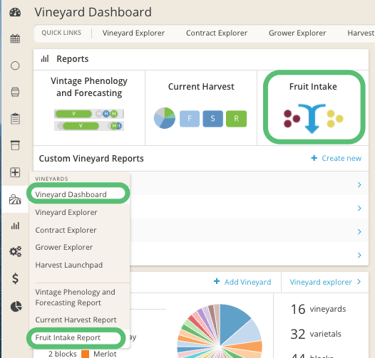 This report displays:
Weigh tag number
Received date
Tonnage
Fruit lot code
Owner (if owner-based permissions activated)
Vintage
Last brix reading recorded with date
Varietal
Vineyard
Block
Clone
Appellation
Grower
Deputy Weighmaster
Results can be sorted by using any of the headers including, but not limited to, weight tag #, date, variety, appellation, etc.
Search results can also be narrowed down by selecting from the filter dropdowns. Use the Voided filter to show voided weigh tags (available with the Advanced Receive Fruit option).
CA Winemakers:
This report is a great resource for filling out your CA Grape Crush Report. If you record a sugar reading in a Receive Fruit action (and it is the most recent sugar reading recorded on the fruit lot), the report will display that number.
Download and Print Weigh Tags (Advanced Receive Fruit Option)
Individual
Click on a row to pull up the Receive Fruit action. You will be able to download and print the weigh tag from the Action details page.
Bulk
Use the filters at the top of the report to parse out the weigh tags you'd like to download, then click on Download weigh tags in the top right corner.
FAQs
Q. I have tonnage remaining after harvest. How do I remove it?
If there are tons still populating your Fruit Intake Report that should not be there, we recommend either recording a Fruit Weight Adjustment (if these are extra tons that were not processed) or deleting the Receive Fruit action (if the fruit was recorded in duplicate or error). Be sure to add any necessary notes. Be mindful that both of these actions do have implications for your TTB report.