Topics Covered
Lot Cost Tab
The cost summary and history for any single lot is available on the Cost tab of each lot and can be accessed directly from the Lot Cost Report or by clicking into the lot from the Lot Explorer.
Permissions: This tab is only visible to users who's cost permissions are set to "Full Access" or "Read Only."
On the Lot Cost tab you'll find a summary of work-in-progress (WIP) costs at the top, as well as a snapshot of finished goods cost captured at bottling, if applicable. There will be a finished goods summary for each Bottle action recorded.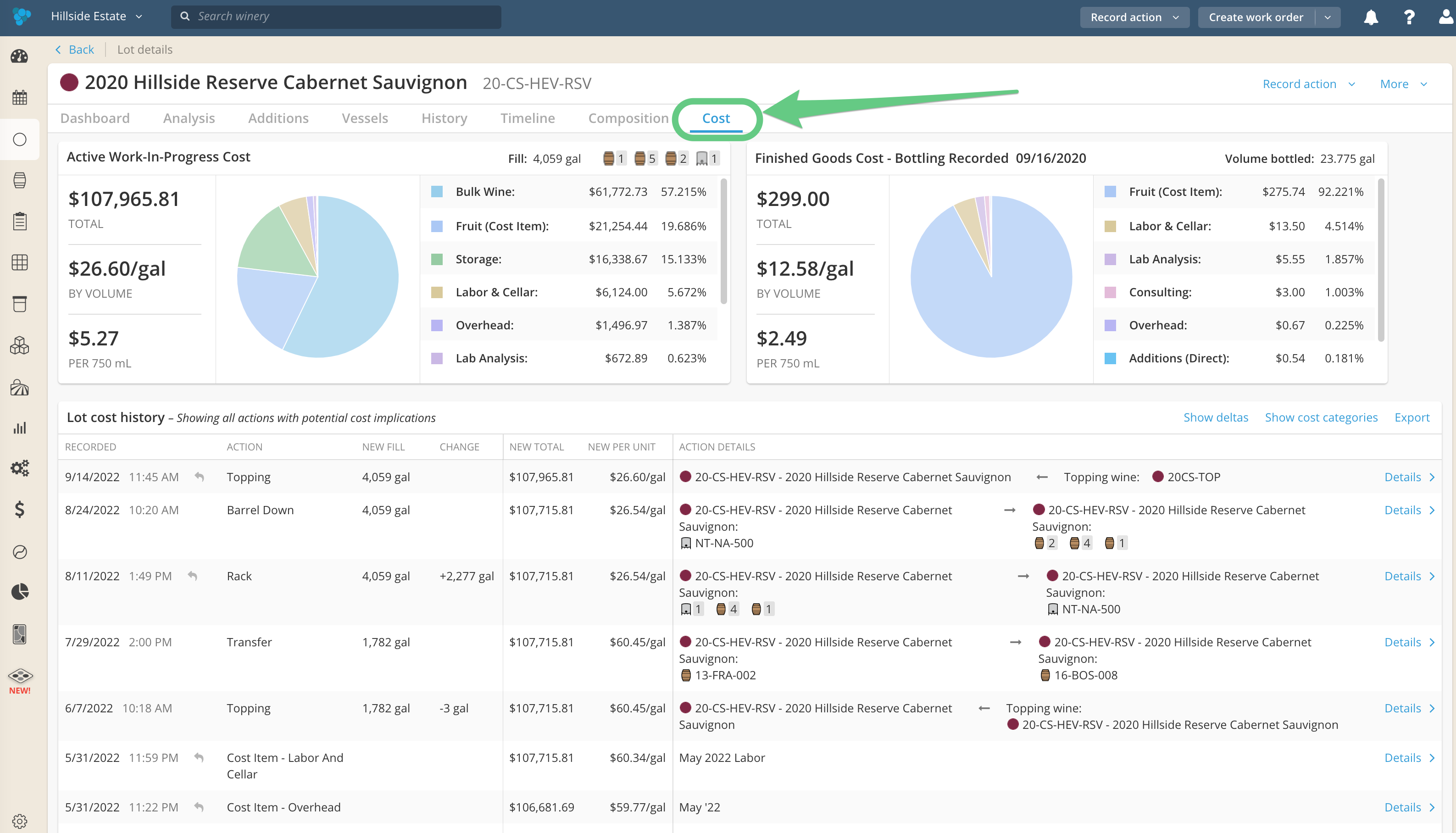 The Active Work-In-Progress Cost summary includes: Current total cost, cost per unit, and cost per bottle, as well as a breakdown of the total cost across assigned categories.

The Lot Cost History provides a list of all actions with potential cost implications to the cost/unit or total cost. This includes cost changes automatically distributed by InnoVint at each wine movement, and Cost Items applied by the winery. Click on each line to open a separate tab with the action details. Click on "show deltas" and "show cost categories" at the top to expand the table and gain further insight into how the values carried through each action.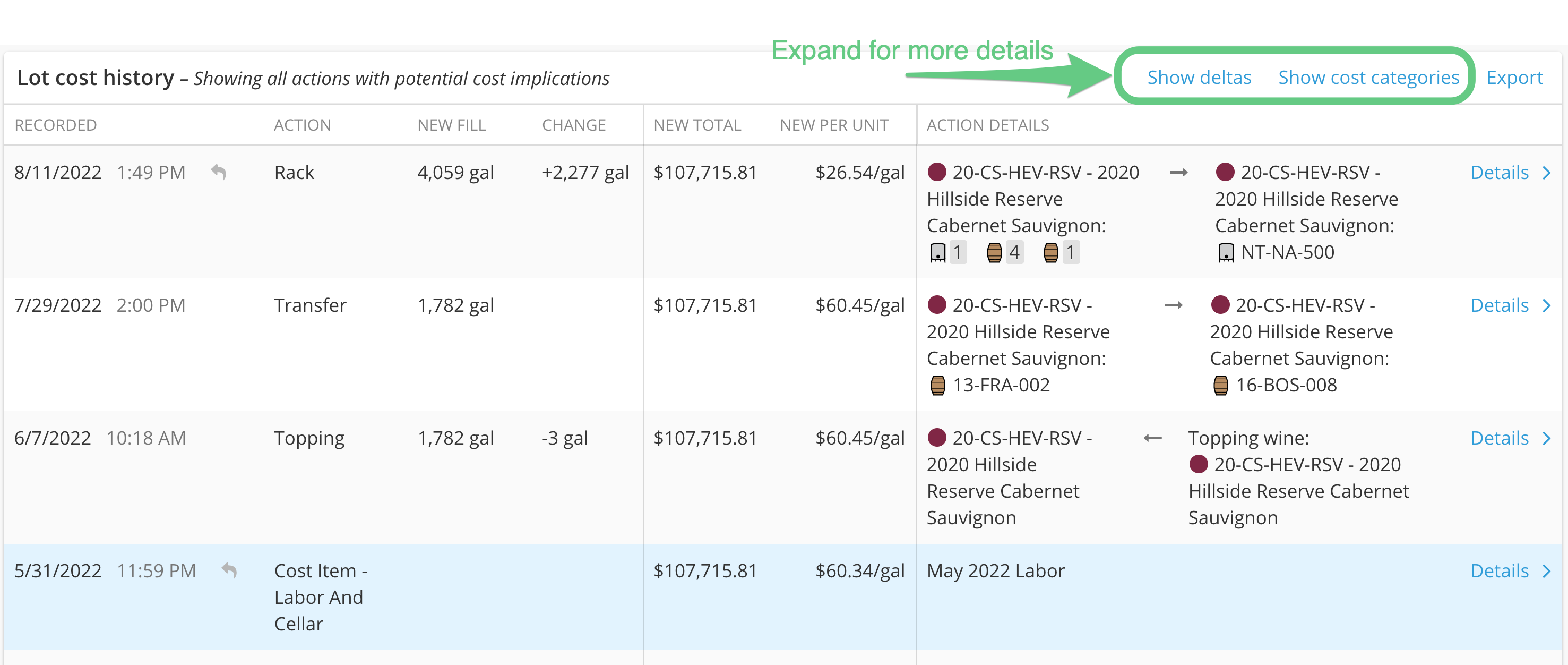 ---
To report on many lots at once, access Cost Reports from the Costing Explorer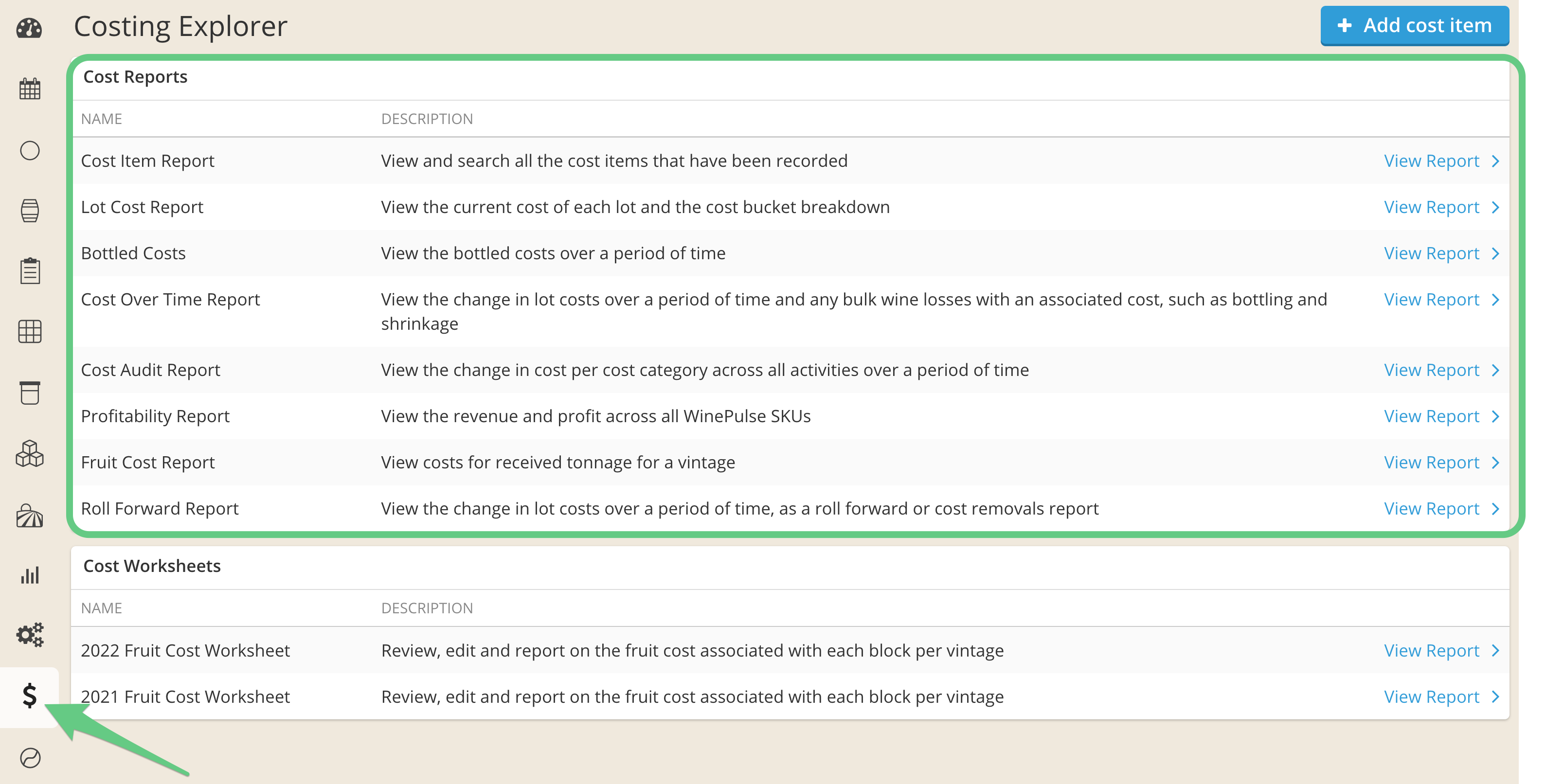 End of Period Reconciliation Reports
Roll Forward Report
to confirm accounting software COGS = InnoVint COGS
The Roll Forward Report is a csv export that details the costs that were both entered and removed during a reporting period. There is an input column for each cost category that received cost during the chosen period (via direct fruit or packaging purchases, or indirect cost items, such as overheads).
To identify how much was entered in a given period per cost category, sum each column containing "Input" in the column title (starting from Column F over).
To identify how much was removed in a given period, sum the columns titled Bottled Vol Cost, Bulk Out Cost, and Shrinkage Cost.
To confirm COGS: Take the Starting Costs (Column E) + Input Costs (Column F over) - Removed Costs (Bottled, Bulk, Shrinkage)

Lot Cost Report
to understand the cost of each lot in inventory as of now or a prior date
This report shows the total cost and the cost per volume unit, whether you are tracking in gallons or liters. It also breaks down the cost by cost category - based upon the categories that you use. If a row is selected, you will be navigated to the lot Cost tab for that specific lot.
The report can be exported to csv at any time by clicking the 'Export' link in the upper right-hand corner of the report. The export includes the lot code and lot name, current contents (in volume or weight), current tax class, bond, total cost, cost per volume unit, cost category breakdown, owners (if applicable), lot stage, lot composition, vessels in the lot, and lot tags.

Cost Over Time Report
to see the change in lot cost within the selected period
This report displays the change in cost, the gain/loss of volume, as well as bulk wine transferred out of bond, bottled, as well as shrinkage (volume lost for reasons outside of normal winemaking such as being destroyed or damage that needs to be written off).
This report will show archived lots if they were active and had volume at any point within the date range. If a row displays a 'Lot has never had contents or costs' message, it indicates that the lot has not been filled and no costs have been applied to it. If a lot is tracked in weight through the duration of the date range, the starting and ending contents will display as zero (0) until the lot is drained and pressed and tracked in volume.
The report can be exported to csv at any time by clicking the 'Export' link in the upper right-hand corner of the report. The export includes the lot code and lot name, starting and ending contents within the date range, starting and ending cost per unit within the date range, net volume change, bottled, bulk out and shrinkage volumes and associated costs. owners (if applicable), and lot tags.

Back to the top
---
Audit Trail Reports
Cost Item Report
to confirm overheads were applied as desired
This report displays the overhead cost items recorded, with the most recent at the top. You can search by lot code and cost category. If a row is selected, it'll take you to the cost item detail page, where the entry can be viewed in detail and edited if needed.
The report can be exported to csv at any time by clicking the 'Export' link in the upper right-hand corner of the report. The export includes the effective date, cost category, details, total cost, and involved lots.

Bottled Costs Report
shows costs by category transitioned from bulk to bottled
This report is run within a selected date range and is available to download as a csv file. It shows the total costs and breakdown of costs per category captured at the time of bottling. These costs are removed from active WIP cost when a Bottle action is recorded in InnoVint and follows the removed volume to Case Goods as finished goods cost.
The export includes the lot code and lot name, date bottled, bottled volume, gains/losses, bottled formats, notes, total bottled cost, and cost by category breakdown.


Fruit Cost Report
to find fruit costs associated per weigh tag
The Fruit Cost Report is a csv export of direct fruit costs per weigh tag, downloaded by vintage. The export includes weigh tag number, date, weight, fruit lot code, bond, vintage, varietal, vineyard, block/clone, appellation, grower, deputy weighmaster, and direct fruit cost.


Back to the top
Fruit Cost Worksheet
track down assigned fruit cost per block
This report is an active worksheet and the functionality is detailed here. On the reporting side, it's valuable to compare previous vintage costs to current vintage costs. It's also useful for budgeting purposes since the system calculates the total expected cost per block based on the cost information. This worksheet can be exported and further customized as needed.

Cost Audit Report
provides details costing transaction activity
The Cost Audit Report provides a full activity history of every action that impacted cost in a select date range. Each line of the report correlates to a specific lot code involved in an action. Unique actions are identified by the action ID (column G). A single action may involve multiple lots, therefore it is common to see the action ID and other related details repeated on multiple lines of the Cost Audit Report.
Use the cost change column (column L) to see where lots have inherited or transferred cost. Scroll further right in the report to see that breakdown by cost category.
Recommended: Sort the report by action ID and highlight the cost change column to identify the total delta for the date range or the delta per action ID.
The Cost Audit Report is generated as a csv download only. The export includes the effective at date and time, action type, lot code, action URL, action ID, tax class, starting volume, ending volume, volume change, cost change, cost per gallon, total cost, and cost by category breakdown.

Dry Goods Explorer
at a glance, see which packaging and dry goods have costs applied
Navigate to the Dry Goods Explorer using the packages icon on the left. Then select "Show costs" to reveal the Cost on Hand and Avg. Cost per Unit columns.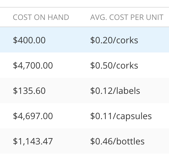 ---
Profitability Report
The Profitability Report will automatically appear in the Costing section of InnoVint when the WinePulse integration is activated. Not a WinePulse client but interested in learning more? See Measuring Profitability with the InnoVint + WinePulse Integration!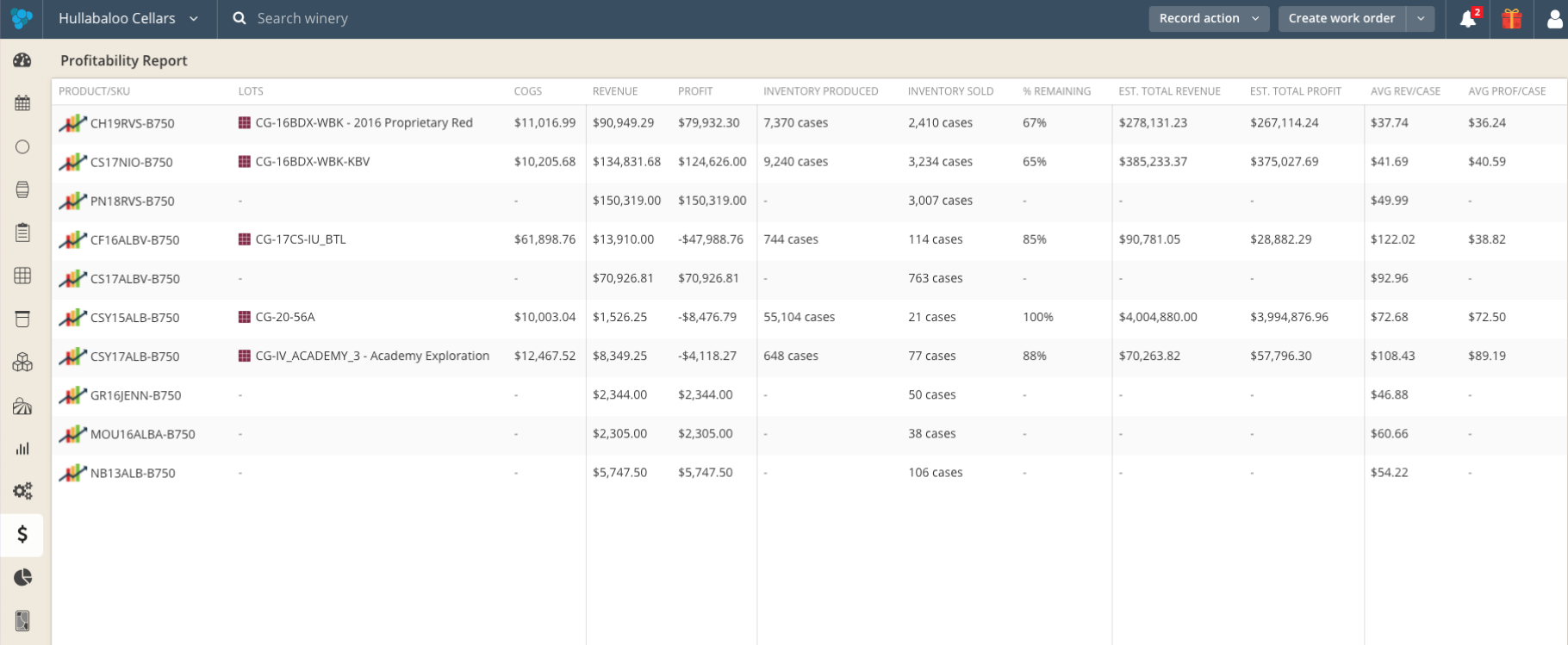 ---
Multi-Winery (Global) Reports
Access Multi-Winery Cost Reports from the Reporting Explorer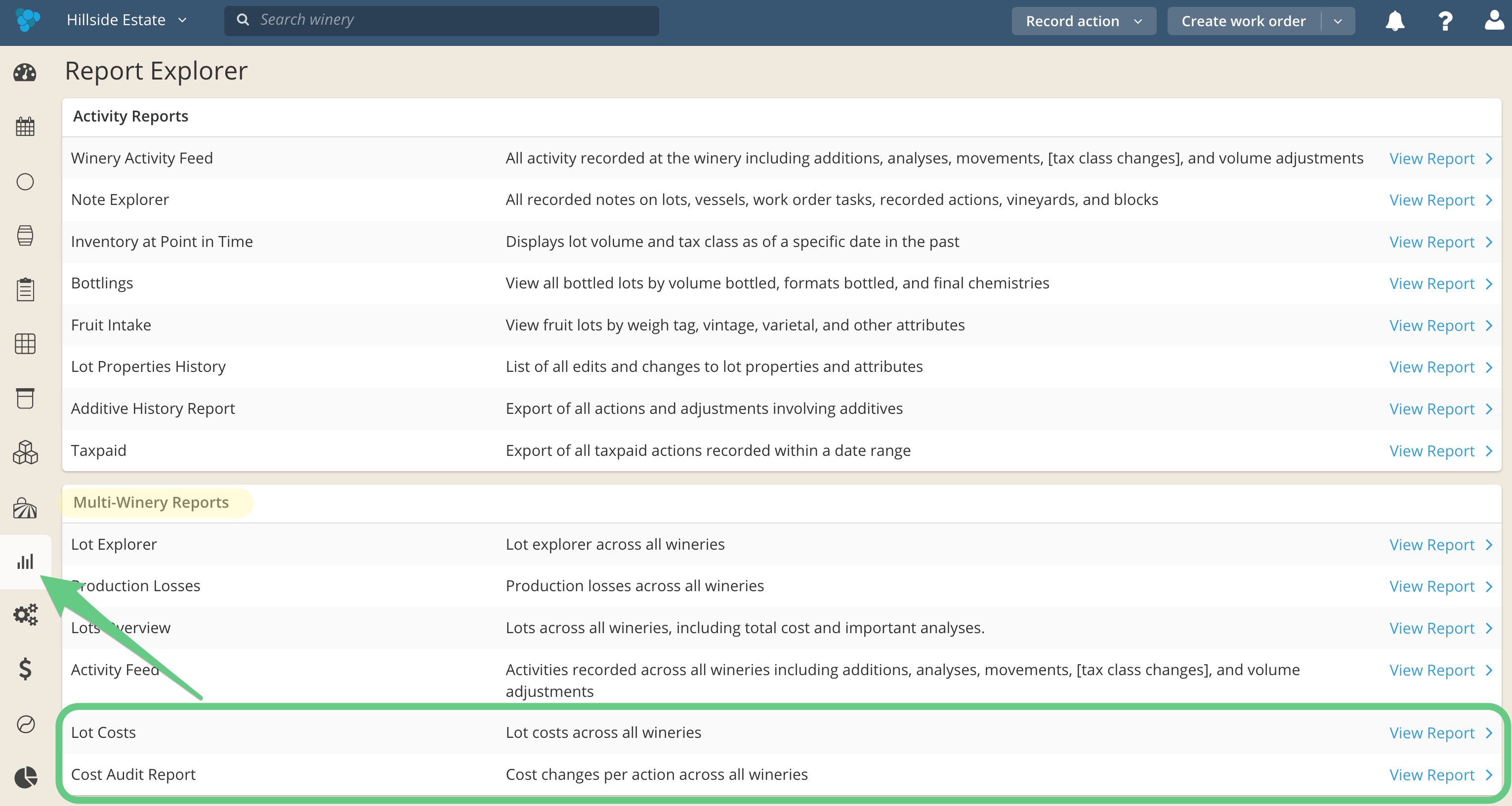 Multi-Winery Lot Cost and Cost Audit Reports function exactly as the single-winery versions described earlier in this page, except for one primary difference. In the multi-winery reports, you can see data from any winery to which you have access and cost permissions enabled all in one report. From here, you can view and export the data together or filter by winery.
Additional Resources
FAQs
Q: How can I quickly pull reports per month, quarter or year?
A: The calendar icon is organized to help you easily pull up a month, quarter or year period, as shown below.
Q: How do I know if I have access to more than one winery in InnoVint?
A: If you click the winery name in the top left of your account and a dropdown opens with additional wineries, then you will have access to the wineries shown.