This article covers:
Both Cost Tracking and Case Goods modules are required to utilize the InnoVint + WinePulse Integration. Please contact support@innovint.us to activate these features.
How it works
WinePulse aggregates sales and revenue data at the SKU level. InnoVint receives that data and, using the SKU, pairs it with the corresponding case goods lot and related cost information. The result is a new Profitability report, which provides instant clarity for key data points like cost of goods sold, actual and estimated profits, and remaining inventory.
Activate the InnoVint and WinePulse Integration
Current WinePulse + InnoVint Clients:
Getting access is easy (and there's no additional cost)! Simply email the InnoVint Client Success team at support@innovint.us. They'll activate the WinePulse integration and Profitability Report feature in your InnoVint account.
Not a WinePulse client yet? Learn how you can:
Get instant visibility of your DTC performance and trends
Compare your winery against your peers
Analyze customer purchasing behavior
Track your DTC goals
And leverage InnoVint's Costing feature to uncover profitability information
Visit www.winepulse.com for more information and to request a demo.
Link a Case Goods Lot with a WinePulse SKU
It's super easy to link an InnoVint Case Goods lot with a WinePulse SKU. Once the module is activated, simply go to a Case Goods lot details page and select the WinePulse SKU:
Accessing the Profitability Report in InnoVint
Once the integration is active, the Profitability Report will automatically appear in the Costing section of InnoVint.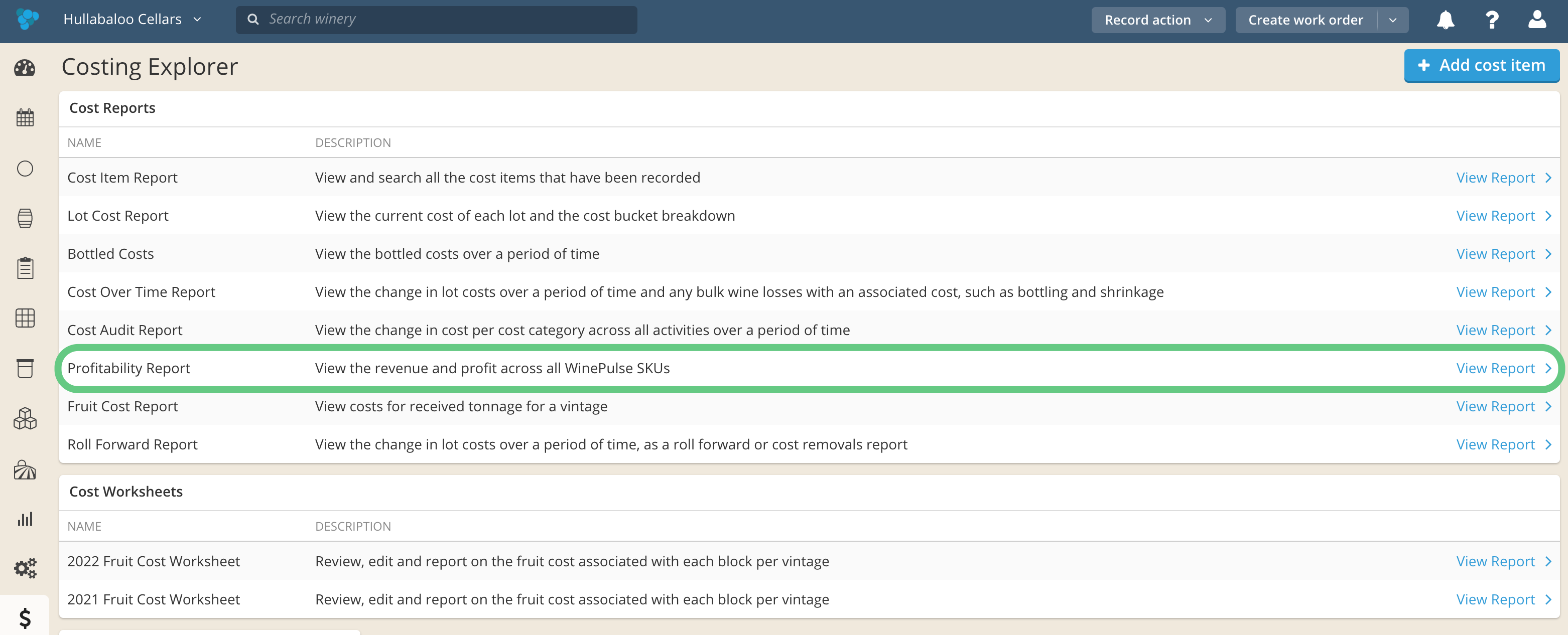 Important Points
Only Case Goods lots can be linked to a WinePulse SKU. You must use the InnoVint Case Goods module to enjoy the benefits of the WinePulse Profitably Integration.
WinePulse only tracks DTC sales. Since the Profitability report currently only pulls in data from WinePulse, only DTC revenue is included in the report. We're working on adding other revenue sources in the future.