Release Notes from March 17, 2023 include:
Features
Advanced Receive Fruit Feature will Work with Metric Weight Units
Do you receive fruit in metric units (tonnes or kilograms)? If you are interested in generating weigh tags out of InnoVint, this is no longer a blocker for you! Reach out to us at support@innovint.us, and we can update this setting and allow you to:
Automatically generate weigh tags
Enter individual scale readings to calculate gross, tare and net weights
Find out more about your Receive Fruit options here, and how to activate Advanced Receive Fruit here.
NOTE! Your Harvest Settings page has not changed and you will need to contact us directly to activate this Setting.

Improvements
New Vessel code filter in Lot Explorer and Lot Pickers

Always check the lot code! ... But sometimes, it's really just easiest to reference the tank numbers. Now you can search by vessel code via the Lot Explorer and in the Lot Picker (when selecting lots for tasks and actions). This field will search text in the vessel code and display lots containing any vessels with that text.

The cursor is currently appearing automatically in this new vessel code field when the Lot Explorer and Lot Picker first open - we will be moving it back to the Lot code field shortly!
Export the Lot Explorer (Beta) export into Excel!
Have you checked out the Lot Explorer (Beta) in our Multi-Winery Reports recently? We added the ability to export your customized report view into an Excel worksheet (it's not just a .csv - this is the first .xlsx export for InnoVint!). This means that your sorting selections and view are exported as you see them on the screen.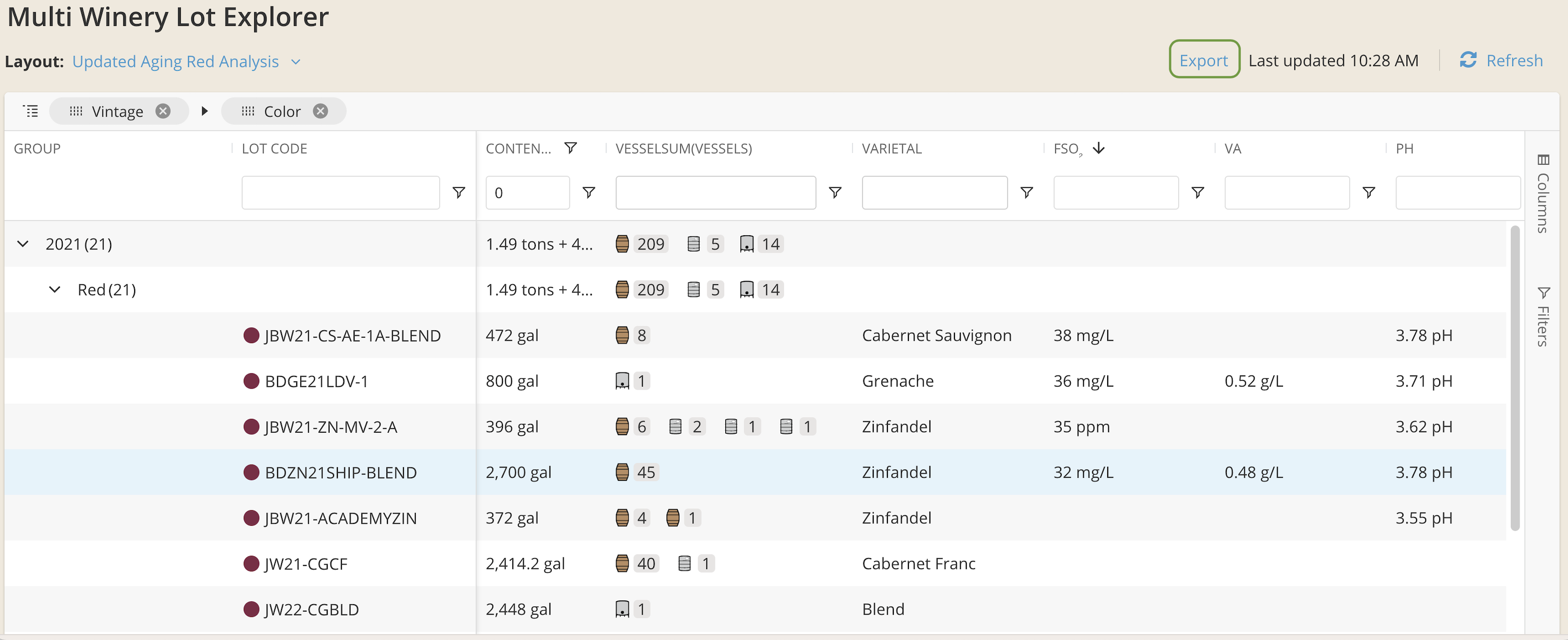 Owner Permissions access performance improvements
Wait no more! If you ever log in with owner restricted permissions (access only to specific owner tags), you may have experienced some slow load times for things like Lot and Vessel Histories or Activity Feeds. Our engineers have reviewed this issue and released several improvements that provide a vast performance boost.
Vintage Phenology and Forecasting Report performance
Is it harvest yet?! Well, yes, it's nearly always harvest somewhere.
For those of our users recording vineyard event data and reviewing it via the Vintage Phenology and Forecasting Report, we have beefed up performance and speed of display for this report.

Also, in case you missed it, you can also export the data that feeds this report using the Export Vineyards Events button (find it at the top right of the Vintage Phenology Forecasting Report, and in the Reports dropdown menu on the Vineyard Dashboard).
Bugs
The Addition Calculator was not working properly in all locations within an Addition Action or Task (any applied calculated amount was correct, but your view of the initial additive calculation per vessel was not).
Stability & Aging Report would not export.
Bond displays: All bond drop-downs should now match (bond number and DBA name, if provided). You may have experienced some inconsistencies across the platform when choosing your bond from a menu dropdown. Every menu should now display both your BWN and the DBA you provided at your account setup. Need to update something on your bond? Contact us at support@innovint.us.