Costs can be added at any time to active or archived juice and wine lots. Whether it's an invoice that needs to be allocated to a single lot or an overhead that needs to be apportioned across many lots, you're able to do so with the 'Add Cost Item' action.
Scroll to the bottom to watch our how-to video! 🎥
To begin, from the Costing left navigation section, select the button to "+ Add Cost Item" in the upper right of the Costing Explorer:

Complete the form, filling in the fields for the type of overhead expense, any details about the cost, and the total invoice or overhead amount to apply across all lots.
For the Effective At section, you have the option to apply the costs to inventory as of today, or work with the inventory as of a date in the past. In the case below, March production labor is being applied to the inventory as of the end of the month, March 31st at 11:59pm.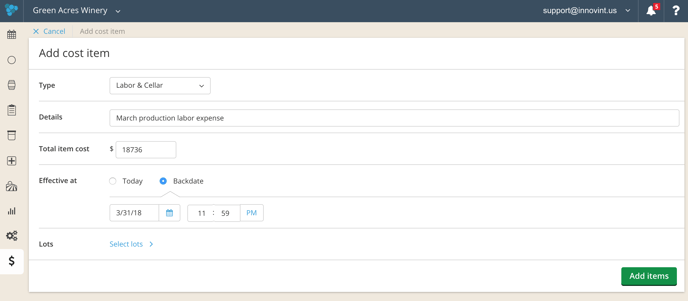 When you click to select the lots, the header confirms you're viewing inventory as of the date specified: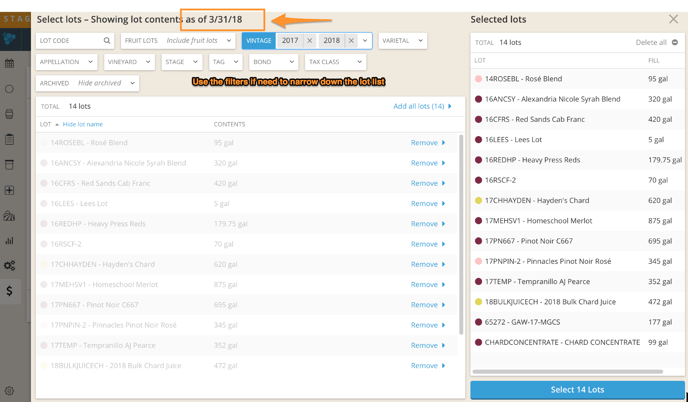 You can use the filters to narrow down the list of lots, if needed.
Once the lots are selected that you want to work with, you'll assign how much cost to attribute to each lot. You can do this manually, entering in the cost for each lot, or you can use the 'Lot Cost' blue drop down link to have the system calculate:
Proportional by volume - Distributes the 'Total item cost' across the lots proportionally based on the volume displayed
$/lot - Apply the same dollar amount to each lot, pre-filling that amount down the column
$/gal - Apply the same dollar amount to each gallon based on each lot's volume displayed, pre-filling that amount down the column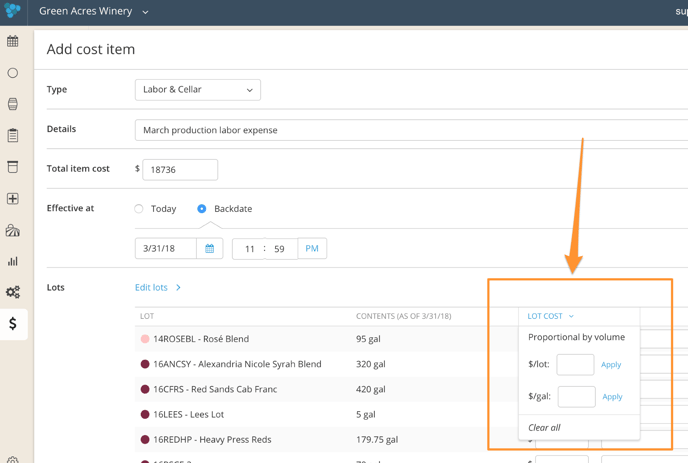 For this example, we distributed the total cost proportionally by volume. The result is below.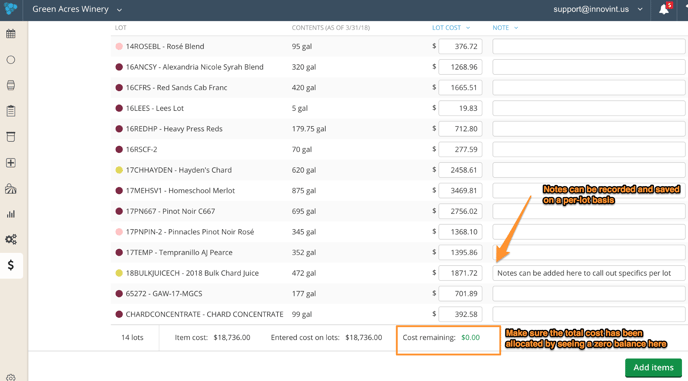 Once completed and cost items are added, the action will appear at the top of the Cost Item Report:

You'll also see the Costing tab on each lot's detail page update as well. Note that if the cost item is backdated and there have been movements or other activities that will affect the cost of the lot and others thereafter, the cost will flow through those actions to catch up to present day volumes.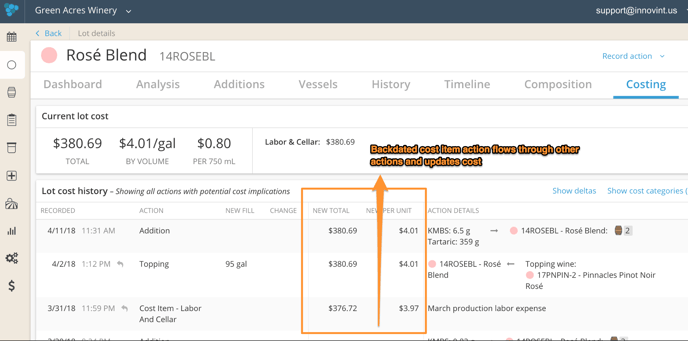 Watch the video below on How to Add a Cost Item in InnoVint