Cost of goods is an essential metric to monitor and understand the financial health of your winery. With accurate COGS (Cost of Goods Sold) you can determine your company's profit margin. Whether you are the one crunching these numbers, or you pass off relevant information to someone else, InnoVint provides the cost tracking functionality that meets everyone's needs.
With InnoVint's robust Costing feature, you're able to capture and report on all direct and indirect costs from grape to bottle. If you are new to tracking production costs, you can start by simply having InnoVint distribute fruit costs from harvest through to your final bottled wines. If you're an experienced CFO that has a practiced methodology for tracking production costs, you can mimic that granularity in InnoVint by inputting all your direct and indirect costs and allocating cellar overheads to have your reliable work-in-progress (WIP) costs tied to real-time production workflow.
Whichever method you employ, InnoVint automatically distributes costs proportionally by volume through all wine movements, whether costs are assigned in real-time or recorded retroactively once an invoice is received. Need to enter a freight invoice for bulk wine intake but the wine has already been blended into other lots? Not a problem! InnoVint automatically distributes that cost proportionally by volume to the blends that have been recorded thereafter.
The system also retains the cost category breakdown throughout this process, so when a finished wine is bottled you know exactly what portion of the cost came from fruit vs. additives vs. labor, etc.
InnoVint tracks the following direct and indirect cost categories:
Fruit (direct, or as an overhead cost item)
Additives (direct, or as an overhead cost item)
Packaging materials (direct, or as an overhead cost item)
Bulk wine
Consulting
Custom Crush
Cellar and Labor Costs
Freight
Lab Analysis
Barrel Depreciation
Overheads
Storage
Debt Interest
Equipment Depreciation
Vintage Crush
Other
There are 2 methods by which costs can be applied:
Direct from InnoVint-managed inventory

ie Pulling costs directly from a vineyard source or a dry goods batch and applying the proportional costs to the appropriate lot(s) as that inventory is used

Indirect, as an overhead "cost item"

ie Allocate specific costs to lots as of today or a date in the past
InnoVint also provides thorough forecasting, budgetary and reporting metrics such as:
Forecasted fruit costs by vintage for budgetary purposes
Estimated vs. actual fruit cost reporting by fruit source
Real-time cost breakdown reported as total cost per lot, cost per unit (gal or liter), and cost per bottle
Cost breakdown as of a historical date, or date range, and the cost over time differential
Bottled, bulk out, and shrinkage information for bookkeeping purposes
Running list of all cost item entries with editing capability
Limited Access for Accounting: Members of your team that only need access to the Costing feature can be granted exclusive access to the Costing section of the software. Here, your accounting team can reference cost information at any time and enter cost items as needed without having to disrupt the winemaking team.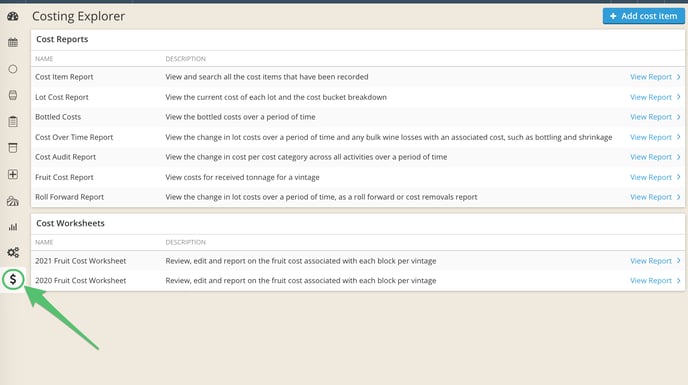 We encourage you to activate this feature to take your production reporting to new heights and bring incredible business value to your winery! Perhaps you'll find margins are healthy, profits are up, and you'll be able to invest in that new concrete tank you've been eyeing.