This article covers:
Setting up InnoVint on the iPad:
We recommend saving the InnoVint web interface to your iPad home screen the first time you open it in Safari (not Chrome). This allows you one-tap access to the login page and provides a clean, full-page view of InnoVint's platform.
WARNING: The cellar.innovint.us website will not load on iOS 8 or older. Update the iOS on your iPad to update Safari.
Open InnoVint's cellar platform in Safari: https://cellar.innovint.us.
Tap the share icon (

) in the upper right, then tap "Add to Home Screen"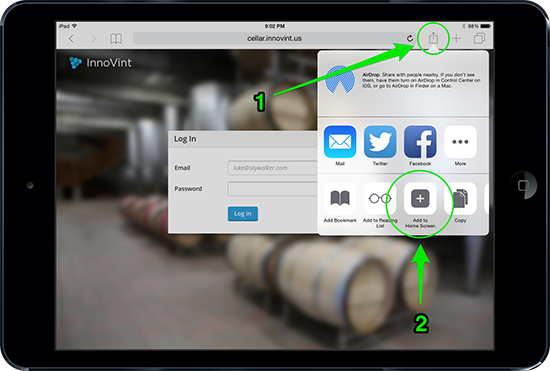 Tap "Add" in the upper right of the second dialog box that appears: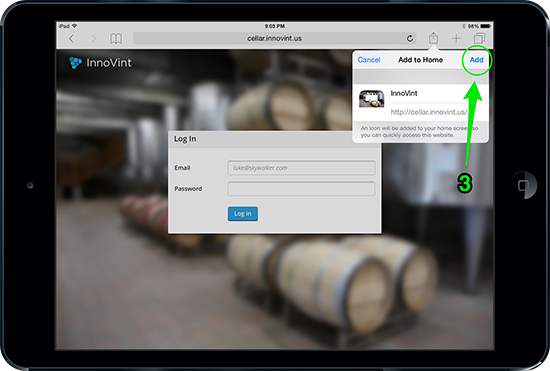 InnoVint is now saved as an icon on the home screen of your iPad,
giving you one-click access to the app.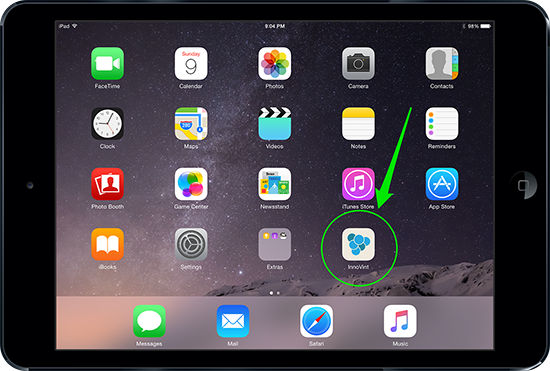 Open the app! You'll notice that there is no browser header,
giving you more space to work.
FAQs
Q: Can I use InnoVint on an Android tablet?
A. Yes. The InnoVint web interface is available through your internet browser. You will need to reference specific instructions on how to save a web page to the homescreen on your Android tablet.
Q: When should I use the iPad/tablets?
A. The iPad is a powerful way to access InnoVint's cellar platform. It has the same functionality and interface as the web app that you access in Chrome on your laptop or desktop computer. It's a great tool if you're walking around the cellar or out and about and want access to every piece of data.
Q: Can I download the InnoVint mobile app onto an iPad?
A. You can, but know that the app is specifically designed for the smaller handheld device screen. To download the mobile app, make sure to change the filter from "iPad only" to "iPhone only" when searching for InnoVint in the App Store. Otherwise the search will not find it.
Q: What are some ways to best utilize the iPad?
A. Just to name a few…
Received a last minute lot of fruit? Receive and process it at the crush pad on the iPad
Assigning a last minute work order? Create and assign them from the iPad
Taking physical inventory? While walking the floor, adjust your volumes on the iPad
On the go and want full access to inventory and reporting? Reference the iPad


Q: The iPad is sensitive to my touch. Sometimes when I'm scrolling through a list a link clicks and I'm taken to a new page. Do you have any suggestions here?
A. The iPad reacts to quick touches. We recommend when you put your finger on the screen to scroll down a page, to hold it there for at least a second before pulling it off quickly. That way the last place your finger was won't register as a selection.
Q: How do I change my iPad orientation?
A. How to Rotate the screen on your iPad
Make sure that Rotation Lock is off:
On an iPad with iOS 12 or later, or iPadOS, swipe down from the top-right corner of your screen to open Control Center. Then tap the Rotation Lock button to make sure it's off.
On an iPad with iOS 11 or earlier, swipe up from the bottom edge of your screen to open Control Center. Then tap the Rotation Lock button to make sure it's off.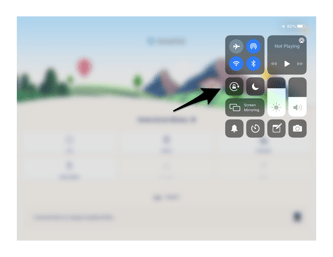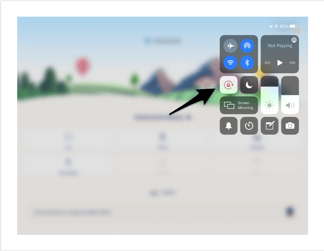 Tapping the Rotation Lock button again will turn it red and lock your screen in one orientation
Check to see if your iPad has a side switch
If you don't see the Rotation Lock button
, check to see if your iPad has a side switch. If you have an iPad with a side switch, you can set the side switch to work as a rotation lock or mute switch.
Go to Settings > General. Under Use Side Switch To, select the option that you want.
Q: How do I see my entire Vineyard Dashboard?
A. Larger feature screens such the Dashboard and Vineyard Dashboard pages are scrollable from left to right allowing users to see the entire screen on the iPad. Simply hold one finger down on the screen and swipe right or left to see another part of the Dashboard.