The software releases for March 23, 2022 include:
New Features
Managing and Using Vessel Locations
This new feature in InnoVint allows users to add location information to any vessel. Users can create an unlimited amount of vessel locations or areas within InnoVint, then add location information to each vessel (or to multiple vessels at once). Because vessel location can be tracked within InnoVint, users can skip the physical walk around the winery to find their wine.
User can set vessel parameters based on the terminology used in their own winery.
Vessels can be tracked to exact locations or general areas in the winery. Locations can easily be changed or deleted as vessels move around.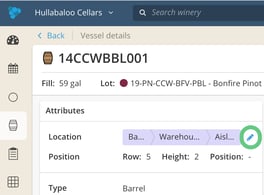 See this article for more information.
Improvements
New Tags in Vineyard Report Exports
The following vineyards report exports now include multiple categories of tags.
Fruit Cost Worksheet - Tags (blocks) and Tags (vineyards)

Fruit Intake Report -

Tags (lot), Tags (vineyard), and Tags (block)

Fruit Cost Report

-

Tags (lot), Tags (vineyard) and Tags (block)
Bug Fixes
Disgorge action incorrectly populating the 5120.17 report

TTB Report: Sweetening Juice also reported as Fermenting Juice

B2B submitted tasks with removed vessels not deletable
Custom Analysis Report not saving #of results
Fully deplete packaging batch checkbox in Bottle action/task
Remove proportional costs with Volume Adjustment (Case Goods) action
Deplete packaging batch in Bottle action/task checkbox missing
Owner tags transferring lots on movement actions
Process action overwriting the fill lot stage

Remove proportional costs with Volume Adjustment (Case Goods) actions

Separate units into separate columns on all exports