Some of InnoVint's report exports (especially data-heavy reports) are designed to run differently, and only download if you have allowed pop-ups from cellar.innovint.us. Some of these reports are:
Vessels at Point in Time
Bottlings (by action and by case good)
Additive History Report
COGS Reports: Lot Cost, Cost over Time, and Roll Forward
Vineyard Events
So, if you don't see your report generate as expected, you may need to check if Chrome is blocking pop-ups. First, look to the far right of the browser's address field to check for the pop-up blocker warning.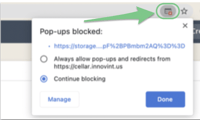 You will need to "Always allow" the pop-ups from cellar.innovint.us, and then re-download the report.
This is only necessary the first time you export any report of this type (that requires a pop-up). All subsequent reporting, even for different reports, should download as expected.
You can also check to see if you have already allowed pop-ups (or perhaps entirely blocked them) in your Google Chrome browser settings:
1) Go to your Chrome settings by clicking on the three vertical dots at the top right of your browser window.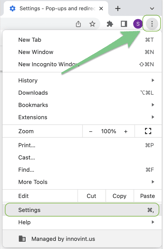 2) Select "Privacy and security."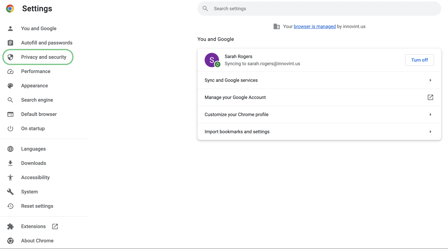 3) Click into the "Site settings."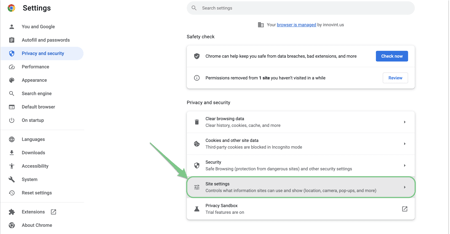 4) Scroll down to the "Additional permissions" section and click on "Pop-ups and redirects."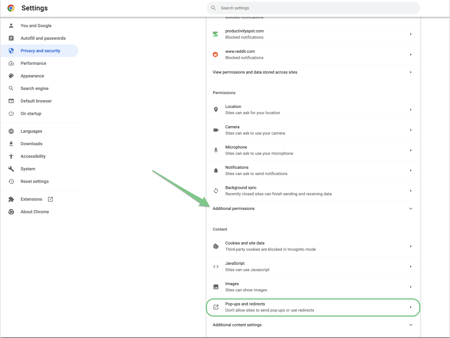 5) Check to see if cellar.innovint.us is allowed to send pop-ups, or if you have previously dis-allowed it.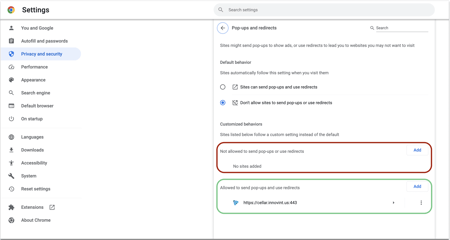 If so, you may need to click on the three vertical dots to the right of the web address, and adjust the setting.