10/19/20 Release Notes - New! Dip Charts, Printed Work Order Format (Beta)
The software release on October 19, 2020 includes:
New Feature:
Dip Charts
InnoVint now supports dip charts! Simply upload a csv file with dip measurements and volumes and apply to specific tanks. Once enabled, dip measurements can be entered into work order tasks and direct actions to determine the fill of a tank.

Learn more about managing and using dip charts HERE.
Improvements:
Printed Work Orders (Beta)
Printed Work Orders are getting an update! Check out the new format option in your account and let us know your thoughts. You can access our feedback form HERE.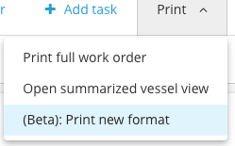 This beta feature only applies to work orders that include a single task.
The new print format is available for the following work order tasks:

Blend
Rack
Transfer
Barrel Down
Top Off
Filter