09/22/20 Release Notes - Work Order Backdating and Work Order History Tracking
The software release on September 22, 2020 includes:
New Features:
Overview Video:
Work Order Submission Options
Submit work order tasks with 3 new submission options!


Account admins can go to Settings > Work order submission to set the default behavior for the account.
Learn more about the new work order submission options HERE.
Work Order History + Edit Task Completion Date
Work order and task history allows you to view historical activity and updates to your work orders!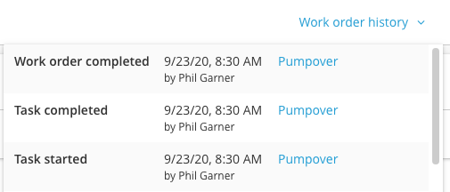 Once a task is completed, you also have the ability to edit the completion date and time.

Learn more about work order history tracking and editing task complete date in InnoVint's Online Support Center.
Improvements:
Work Order ID
A numerical work order ID is now displayed in the header of each work order. You can also search for work orders by this number in the Name filter in the Work Order Explorer.


Bug fixes:
The ability to edit a Vineyard Event on multiple blocks is restored 🚜
Custom Winemaking Report volumes fixed