10/11/19 Release Notes - Receive Fruit task editing improvement, lot component volume, and bug fixes to the Ferm Gen
The software release on October 11, 2019 includes:
Improvements:
Exports of Lot Components now include the volume per component.

Language in the Cost Over Time report has been changed to more accurately describe the lot status.

Editing the arrival date in an open Receive Fruit work order will now automatically update the work order due date, and vice versa.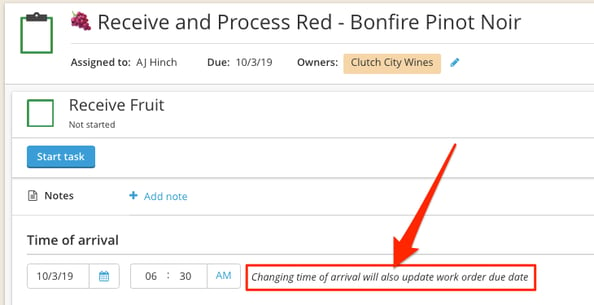 Bug Fixes:
Issue with 'freezing' in the Fermentation Worksheet for some accounts has been resolved
Misspelling in error message has been fixed... although we kinda like our made-up word, conflictioning 😉
The Barrel Fermentation Worksheet now displays the number of each vessel type on the far right, instead of the vessel code. This should now match the vessel count shown on the far left fo the worksheet.