11/29/18 - Adding cost items to lots in weight, Lock Backdating for cost items, and more!
The Software Release on 11/29/18 includes:
New Features
Cost Items can now be added and applied to Fruit Lots and lots tracked in weight


Improvements
New Cost Item categories added: Consulting, Custom Crush, Debt Interest, Equipment Depreciation, and Lab Analysis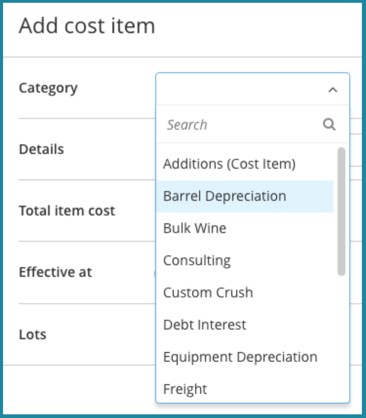 Winery Activity Feed and export show change in weight for Fruit Weight Adjustment actions.
Partial option added to the Contents filter dropdown in the Vessels tab of the Lot Details page to show vessels on ullage. This option was previously only available in the Vessel Explorer.
Bug Fixes
Fix for filter dropdowns in Cost Over Time report
Lot and Vessel pickers now allow selection of archived inventory in bulk
Fix for cost distribution on saignée volume
We fixed our typo in the Tax Class "Decleration" tab header! 🤪