Please be aware that we will be discontinuing support for the iOS Work Order app in mid to late 2023. It is no longer available in the Apple Store. We recommend moving to InnoApp, which is compatible with all device types.
You can directly record analysis readings from the iPhone or iPod. From the Lot Details or a Vessel page, press the "Record Action" button in the upper righthand corner. This allows you to select the Analysis button from the pop-up menu.
Analyses can be run as a lot composite or on a single vessel in the app. You can choose to run a pre-saved panel or select individual analyses from the dropdown menu.
Entering individual analysis values:
The dropdown menu of individual analyses lists the most commonly used first, then follows with all other analyses in alphabetical order.

Using an Analysis panel:
If you choose to use a panel, press the "Select Panel" button, and all pre-saved panels will appear. Select the one you want to use, which will then populate back on the Analysis screen.
Select the analysis you want to enter and use the keypad to enter the value in. Press "Save" to retain this value to the lot.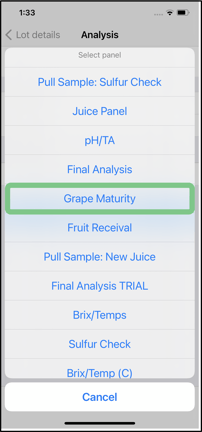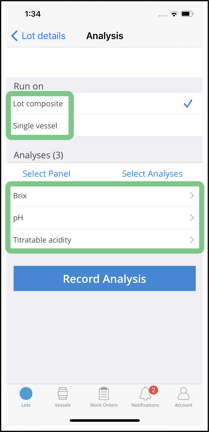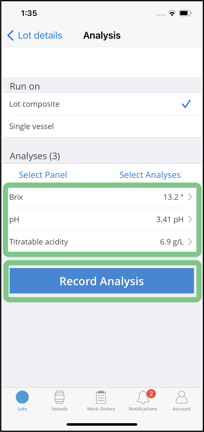 After you have entered all of your analysis values into the required fields, press the

button to save analyses readings to that lot.
Within the mobile app, you can record negative readings for brix values as part of the analyses on each lot.
How to enter negative Brix values:
Enter the positive form of the Brix value in to the "Value" box. Tap the "Flip sign" button to change the entered value to its negative inverse.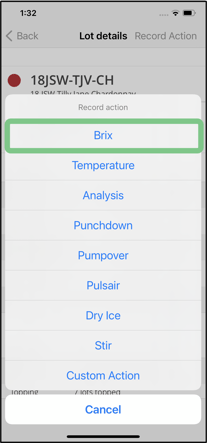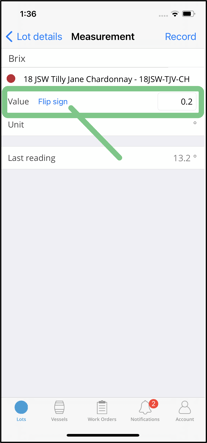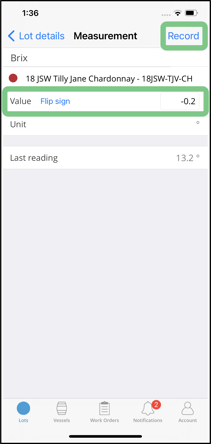 Once you see the correct value entered next to the Brix header on the Analysis page, you are all set to press the "Record" button to get your Brix value into the system for that lot.