Record Pumpovers
Please be aware that we will be discontinuing support for the iOS Work Order app in mid to late 2023. It will no longer be available in the Apple Store. We recommend moving to InnoApp, which is compatible with all device types.
Users can record a Pumpover directly from their mobile device. From the Lot Details Page, press the "Record Action" button in the upper righthand corner. Select "Pumpover" from the drop-down menu, which will take you to the action page.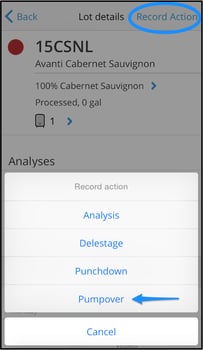 Select the vessel in that lot you wish to attribute the pumpover to and enter any details you want to record, such as abnormal observations or temperature fluctuations.