The software release on 7/6/17 includes:
New Features:
New Gift Box icon in the upper right of the web interface which links to the Online Help Center and details of all software releases to date to include new features, improvements and bug fixes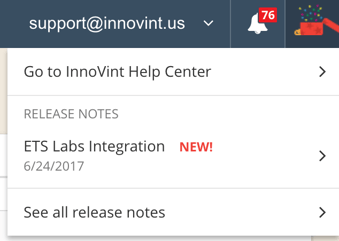 New Report: "Inventory at Point in Time" which shows the lot volume and tax class as of a particular date in the past

Pulled out Bond to Bond Transfer as a separate action from Volume Adjustment. It now appears separately in the action drop down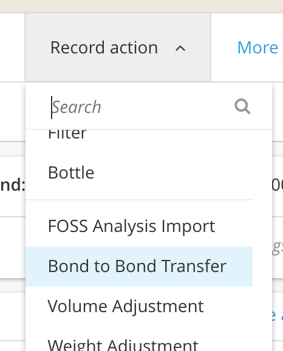 Backdate icon implemented in History Feeds to indicate if an action has been backdated. Hover over the icon to show Effective At time and Submitted At time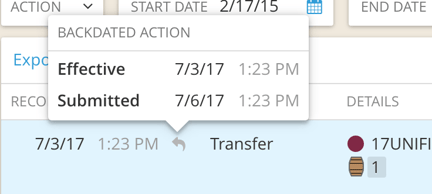 New "Blended" lot stage added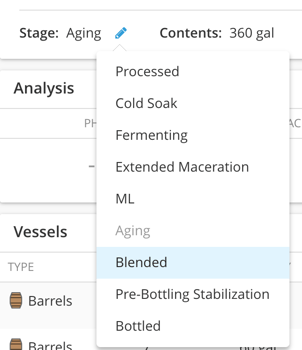 Improvements:
Volume Adjustment actions (including Bond to Bond Transfers) now appear on the Calendar
Varietals are now displayed in the Vineyard Explorer
For those with custom crush permissions enabled, the Owner filter is now in the Winery Activity Feed.
Custom report exports now show the date and time stamp of historical analyses
New addition rates added: lb/gal, g/100L (g/dL)
Submitted work orders in All Submitted work order tab now sort from most recent to least recent
Improved Lot Detail Page load time by limited History widget to 3 most recent activities. To view all history, go to History sub-tab.
Bug Fixes:
Notes now display correctly on vessels when scrolling through pagination in Vessel Explorer
Calendar date search now respects start date rather than date after start date
Blend action summary now shows correct vessel count rather than (1) of each type
Rack and Return action now prevents new lees lots to be created and submitted with no contents increase
In the Lot Explorer, Archive and Fruit Lots filter selections are now saved if a lot is clicked then the user navigates back to Explorer