The software releases for November 12, 2021 include:
Improvements
Yield Column Added to Vintage tab in Block Details Page
Users can now see a total yield and yield/area reading on the Block Details page under the Vintages tab. This value will be produced when the lot has been Processed to Volume or has undergone a Drain and Press to be converted to volume.

To have this auto-calculated for you, be sure to have a value entered for your block area in acres or hectares under Block Details.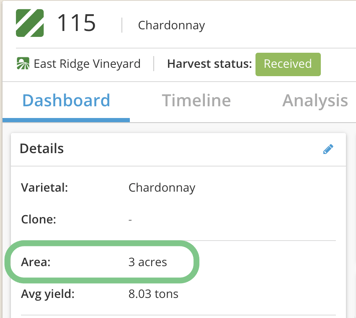 New Color Header in the Vessel Explorer Page.
Users can filter by "Color" in the Vessel Explorer page and see that color in a column. Choose between Red, White, Rosé, or N/A. This is a useful tool when looking for barrels to assign to lots.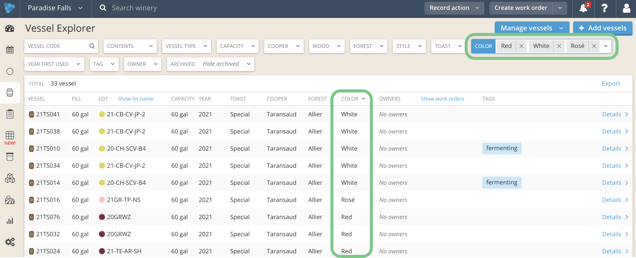 Lot Additions Across Products Owner Warning
Wineries with custom crush permissions enabled can now see when an additive belonging to one owner is being added to the lot of another owner. User can choose to accept this or cancel out of the addition action.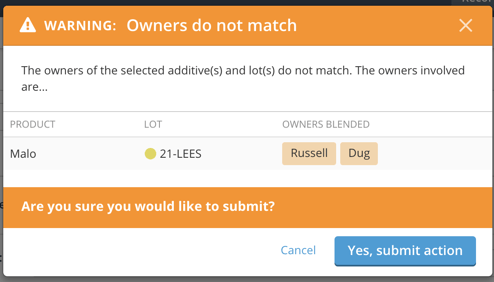 Bond and Owner Filter Added to the Inventory at Point in Time Report
Bond and Owner (for those with custom crush permissions activated) filters have been added to the Inventory at Point in Time Report. Choose a date and time and click the blue "Run inventory report" button to see the filters. These are also visible in the export.

Fruit Lots are Now Included in the Inventory at Point in Time Report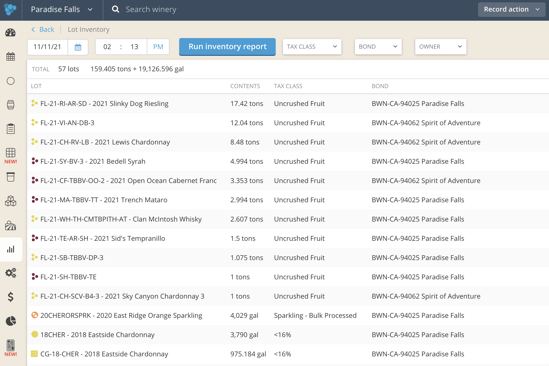 Bugs
"Lot owner" removed from Receive Dry Goods action in WAF export
"Add Cost Item" metric units
Current Harvest Report Export fruit status date

Cost Item Action involved lots display

Lot dot colors on Custom Analysis Report and Ferm Gen

Bottling Report Format and Bottles Display
Lot import .csv hover-over icon
Intended Use Allocation exports .csv suffix
Case Goods Bottle action display showing only one case goods lot
Add Bottle Case Goods task within a created work order
Error message for vessel analyses with an empty lot
Edits to Case Goods volume bottled saving
Overfill error correction