The software releases for October 4, 2021 include:
New Features
Additive History Report
Download the Additive History Report to view all actions and adjustments involving additive batches within a date range, including addition actions and receiving new inventory. The export provides a batch-by-batch, lot-by-lot breakdown of used, scrap, and adjusted amounts. And if you have InnoVint's Cost Tracking feature activated, cost changes are included! Use this report to better understand the consumption and cost distribution of additives at your winery.
You can find the Additive History Report in the Report Explorer, under Activity Reports.
Lot Property History
View a chronological list of all edits to lot properties and attributes, including changes to lot code, name, color, style, as well as stage and tax class. You can also track lot archiving and edits to expected yield. Go to the History tab in the Lot Details page, and click on 'Lot property history' to see the list per lot, or view lot property history across all lots from the Report Explorer.

Improvements
Bond to Bond Transfer to another InnoVint Winery now supports partial lot transfer
The B2B to another InnoVint Winery action now permits you to either select the entire lot or a selection of particular vessels.

Set Color and Style as a Lot Property (and change the lot dot color!)
Select the lot color and style when creating a new lot, or go to the Lot Details page > More menu (top right) > Change lot properties to edit an existing lot. We've even added a new option for orange wine!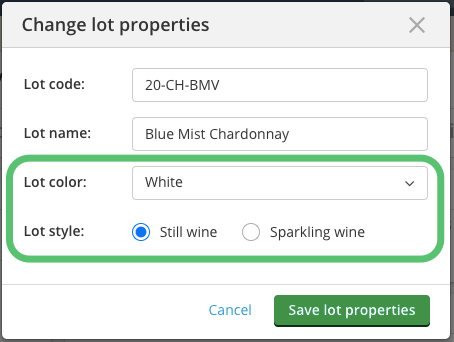 Multi-Winery Lot Explorer
Are you managing inventory across multiple wineries in InnoVint? The new Multi-Winery Lot Explorer allows you to view all lots across all wineries that you have access to. Use all the same filters and sorting capabilities that you have come to rely on (plus a new filter for winery), and export the complete list to a csv file. Click on any lot to open the lot details page in a new tab.
You can find the Multi-Winery Lot Explorer in the Report Explorer, under Multi-Winery Reports.

Owner and Tag Fields available in the Fruit Intake Report Export